Program Eligibility Criteria
Note: A limited number of applicants will be admitted each year.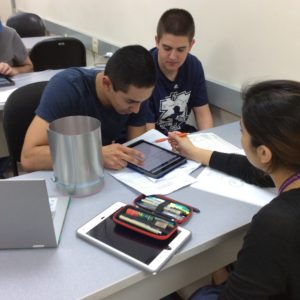 The Turning Point Program is a small, unique, and individualized program. To ensure that each students within the program can be as successful as they can be, the Admission Committee can only admit a limited number of students per academic year. At the present time, Turning Point accepts 16 students per academic year.
The decision to offer or deny admission to the program will be made by the Admission Committee. These decisions made are with the Committee's best judgment for the best interest of each applicant.  Admission will be based on the following criteria:
Applicants must be between the ages of 18 and 30 years old.
A clear and well documented diagnosis of an Intellectual Disability must be present within the supportive documentation submitted with the Application Packet. Applicants must be highly motivated young adults whose "disability" is characterized by significant limitations both in intellectual functioning and in adaptive behavior as expressed in conceptual, social, and practical adaptive skills" *(AAIDD definition). Applicants will have received extensive special education services in their secondary schools and would have considerable difficulty succeeding in a traditional college degree program.
Students must present a means of communication including basic skills in functional literacy and numeracy
Students must demonstrate appropriate student conduct to participate successfully in the program
Students must demonstrate a strong desire to continue their education and have ability to benefit.
Please complete all sections of this application. It is acceptable for the applicant to receive support, if needed in completing the application.  You may attach additional information and pages for writing space if needed.  We request all sections be completed in order to assist us in determining this applicant's admissibility to the program.  All information is confidential and will not be shared with any outside agencies unless written agreement is provided by those filling out the application.