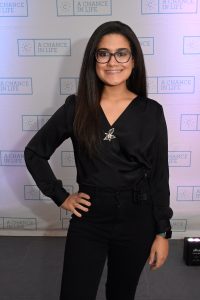 As an oral deaf student, Kate Del Castillo, took on challenges and enrolled in the event planning and management hospitality certificate program at Bergen Community College. Del Castillo has served as an event planner alongside her classmates to produce two Bergen Room Luncheon events in November and December 2021. She volunteered in the Fall 2021 semester for two large scale fundraising Galas in New York City for a nonprofit organization, A Chance in Life.
Event planning professor, Mariella Spagnolo, saw Del Castillo's determination and nominated her to be featured on Bergen's social media accounts. Professor Spagnolo said, "Kate faces challenges head on. She takes initiative and has incredible gumption. She has a true passion to pursue a career in event planning and I believe Kate will flourish in this industry. She is a role model!"
Del Castillo said, "My experience at Bergen has been challenging since I am oral deaf. I am navigating the system as an adult now. However, it has also been a learning experience and I seek the support from the staff and professors that is necessary to succeed in my coursework, in particular my event planning classes. And, I am grateful for that. To say the least, I'll never give up and I know I am getting there!" Del Castillo plans to pursue an associate's degree in hospitality management at Bergen.