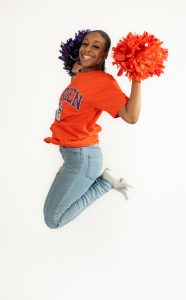 Bergen Community College biology student, TaylorLee White, aspires for a career as a general nurse practitioner. As an active student leader on campus, White serves as chair of the diversity committee in the Student Government Association, BSU Club Member, and D.I.V.A. Girl Club member. She was the Women's History Month student honoree in 2022. White also works as a student staffer for the Office of Student Life.
White credits her peers, supervisors, and family for motivating her to be successful at Bergen. "My peers, the amazing people, and supervisors I met along the way who pushed and motivated me to reach higher ground," said White. "My family, my loved ones, and most importantly my determination to go farther in life made me successful at Bergen."
When asked about why she chose Bergen, White said that Bergen is "My first step attending college to test the waters before I attend a university." She said, "I want to further my education and begin my career to excel." She expects to graduate in 2023.