Spring 2022
A Screening of the documentary film Who Will Write Our History and Q&A with filmmaker  Roberta Grossman
Streaming of the Film will be available from April 11-April 25
Click here to stream the film
The talk and Q&A by filmmaker Roberta Grossman will be virtual via Webex Monday April 25, 2022 12:30-1:30pm
Click here to join the Webex talk on April 25
In November 1940, days after the Nazis sealed 450,000 Jews in the Warsaw Ghetto, a secret band of journalists, scholars and community leaders decided to fight back. Led by historian Emanuel Ringelblum and known by the code name Oyneg Shabes, this clandestine group of journalists, scholars, and community leaders in the Warsaw Ghetto vowed to defeat Nazi lies and propaganda not with guns or fists, but with pen and paper. Now, for the first time, their story is told in the documentary featuring the voices of three-time Academy Award® nominee Joan Allen and Academy Award® winner Adrien Brody. Written, produced, and directed by Roberta Grossman and executive produced by Nancy Spielberg, WHO WILL WRITE OUR HISTORY mixes the writings of the Oyneg Shabes archive with new interviews, rarely seen footage and stunning dramatizations to transport us inside the Ghetto and the lives of these courageous resistance fighters. They defied their murderous enemy with the ultimate weapon – the truth – and risked everything so that their archive would survive the war, even if they did not.
Email Sarah Shurts sshurts@bergen.edu with any questions about the event
Fall 2021
Holocaust Survivor, Fran Malkin, Speaks (flyer) – virtually via Webex – Thursday 11/04/21  @11am  – 12 pm
Fran Malkin was born in Sokal, Poland in 1938.  In 1939, Russia occupied her town. Under Communist rule, her family's properties were taken away and strangers occupied their home. In spring 1941, Germany invaded and occupied Sokal. They ordered all Jewish men between the ages of 16-60 to report to the town square. 400 Jewish men, including her father, were taken to a brick factory and shot. Fran was two years old.
The family was later forced into the ghetto. In the fall of 1942, the family went into hiding. They were among sixteen people who were hidden for two years in the hayloft of a barn by Francisca Halamajowa, 13 in the hayloft over the pigsty and 3 in a hole under her kitchen.  Watch Amazon movie trailor
1-hour Webinars from echoesandreflections.org  – Register on their 2021 Registration calendar

Explore Virtual Holocaust events at Kean.edu  holocaust-resource-center-events
---
Spring 2021 (virtual events)
"France Divided_ Understanding the WWII Occupation of France"by Dr. Eileen Angelli co-hosted by Kean University Wednesday, April 28 @7pm – contact sshurts@bergen.edu for details
Holocaust Survivor Talks:
Holocaust Survivor, Bronia Brandman to speak for Yom HaShoah
Tuesday April 13, 2021 @11:30 -1:00pm   Register for webex JOIN link
Bronia Brandman was born into a family of six children in Jaworzno, Poland.  She was just eight years old when
WWII broke out. She and her family were confined in ghettos, enslaved in labor camps, deported, and murdered. Ms. Brandman narrowly escaped the gas chambers at Auschwitz by running away from her assigned line and joining her older sister in another line. Her sister soon developed typhus, and the Nazis sent her to the gas chambers. Her parents and a brother were also deported to Auschwitz, never to be heard from again. Bronia remained at Auschwitz until January 1945, when she was forced on a death march. Though sick and delirious with fever, Ms. Brandman survived until liberation in May 1945. Today, she is a retired teacher and volunteer member of the Speakers Bureau of the Museum of Jewish Heritage, mjhnyc.org

Holocaust survivor, Erwin Forley, to speak for International Holocaust Remembrance Day. Co-hosted by The Museum of Jewish Heritage, NYC. mjhnyc.org     view Event Poster

Tuesday, January 26th  12:00pm
Fall 2020 (virtual events)
Holocaust Survivors Speak – in commemoration of  Kristallnacht
Sami returns to Bergen to tell his story of surviving the HOLOCAUST – November 9  Monday 11:00 – 12:30 pm – view the recording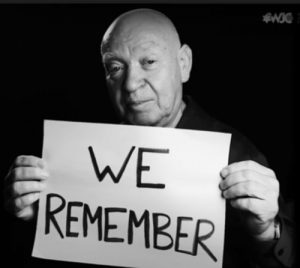 Sami Steigmann  was born in 1939 in Bukovina, Romania. As a toddler Sami was subjected to cruel Nazi medical experimentation and starvation, in the Transnistria labor camp.  He suffered all of his life with chronic head, neck, and back pain.  His life was saved by a German woman who had access to the camp.  

Virtual Dialogue Series
Join us in an open dialogue. Listen to multiple, diverse perspectives that allow us to address racism in our society. Advanced sign-up required – Email Cristina Haedo, Facilitator, Student Services Counselor, chaedo@bergen.edu.
Racial Justice and Policing –  Tuesday, November 10, and Thursday November 12.
Identity -What's your Story? Tuesday, October 13 and Thursday, October 15, 12 -1:30 pm
The Golden (Platinum )  Rule – Listen to Golden Rule Rap song
Tuesday, October 20 and Thursday, October 22, 12 – 1:30 pm
Faculty should also explore opportunities for Dialogues from our partner at Facing History
Spring 2020
Annual Prahkin Literary Awards Ceremony – Wednesday, 1/29, 6:30pm, TEC-128
Holocaust Commemorative Speaker, Paul Galan, Survivor – Thursday 4/02, 11am-12:30pm, C-211
Paul Galan was born in Czechoslovakia. He and his family were fortunate to survive the Holocaust through a series of unusual circumstances and good luck. He will share his unique story of survival. Despite the separation of his siblings, and family members sent to concentration camps, all of his immediate family miraculously survived and were reunited at the end of the war.
Fall 2019
No Man's Land: Dialogues on the Experience of War – series of 3 weekly sessions beginning November 11 – S-134 – 6:30 pm. co-hosted by BCC's Center for Veterans and Military Affairs.
Dr. Waitman Beorn, Holocaust historian from Northumbria University in England will be speaking over Skype at the Meadowlands – Nov 19, 11:45-1pm.
Women's Experiences during the Rwandan Genocide – Dr. Sara Brown – December 10, 2019 – 11:45am Room 5 Meadowlands
Injuries of Reconciliation: Being an Armenian in Post-Genocide Turkey – Wednesday, November 6, 2019 – 7 pm – A-104
Dr. Melissa Bilal, a native of the Istanbul Armenian community, will share her research from three generations of genocide survivors who continued living side-by-side with the people who murdered their loved ones, as well as survivor families of the 1930s' Armenian exodus from the village of Burunkışla. Dr. Bilal will share how songs and stories were used as means of transmitting memories within a framework of forgiveness and reconciliation.
NIGHTINGALES, True Stories of Escape, Hope and Resilience – Mimi Melkonian, author. Wednesday, October 2, 2019, 7 p.m. – A-104
11 million Syrians have been forced to flee their homes as a result of civil war. Melkonian profiles 16 inspiring migrants, including artists, musicians, intellectuals, and entrepreneurs, who left their homes and family, knowing they may never return.
Spring 2019
"No Man's Land: Dialogues on the Experience of War" – series of 3 open sessions from 6 – 8 pm – C325. co-hosted by BCC's Center for Veterans and Military Affairs.  Read: news.bergen.edu/100k-grant-spurs-programs-for-military-veterans 
Holocaust Remembrance – April 2019
co-sponsor: NJ Commission on Holocaust Education
Monday, April 1, 11 am – 12:30 pm – TEC-128 – Iris Dorbian: INTERGENERATIONAL TRAUMA: Struggling With a Painful Legacy – In the Aftermath of the Camps.  As the daughter of Holocaust survivors. Iris speaks about her father's Holocaust experiences and the effects his trauma had on her and her family. Hirsh Dorbian was 11 years old, when he and his family were arrested and separated. He spent six months following his liberation in a displaced persons camp, and a lifetime deeply traumatized.
Wednesday, April 3, 11 am- 12:30 pm TEC-128 – HOLOCAUST Survivor Hidden Child in France – Simon Jeruchim  was born in Paris, France on December 25, 1929. In July 1942 the French police, collaborating with the Nazis, rounded up Jews in Paris to be sent to death camps. Simon's parents were put in touch with neighbors, a compassionate gentile couple, connected with an underground network organized to save Jewish children. Twelve-year old Simon and his two siblings, fourteen and five, were sent in hiding in Normandy and placed separately with gentile families. Simon's parents, while attempting to escape to the unoccupied zone of France, were arrested crossing the border, deported and murdered in Auschwitz. Simon and his siblings survived.
Monday, April 8, 11am – 12:40 pm A104 – Chris Nicola presents "No Place on Earth".
American Cave Explorer, Chris Nicola narrates the story of how five Ukrainian Jewish families survived the Holocaust by taking refuge in a cave for over a year. He explains how he spent 10 years finding and interviewing the survivors, to confirm what he had accidentally discovered; Plus 10 years in bringing about both a book and documentary; : www.noplaceonearthfilm.com.

Armenian Genocide – March -April 2019
WORKSHOP for Educators
Thursday, March 28 -PJR hosts Facing History  – a workshop for teaching "The Armenian Genocide " – 9 – 1:30 pm – Examine the events leading up to the systematic murder of over one million Armenians, and the aftermath of such atrocity. Middle and High School educators welcome.  flyer details.  RSVP – facinghistory.org/newyork/events
Book presentation "Feast of Ashes" – by Sato Moughalian – Thursday, April 11, 7 pm – A-104
The story of David Ohannessian, the renowned ceramicist who in 1919 founded the art of Armenian pottery in Jerusalem. Born in an isolated Anatolian mountain village, endured arrest and deportation in the Armenian Genocide, founded a new ceramics tradition in Jerusalem.
Early SPRING 2019 Holocaust Studies Events
Tuesday, January 29, 12:30-1:30pm – Opening of the Exhibit: POLIN Museum of the History of Polish Jews Present 'They Risked Their Lives: Poles Who Saved Jews During the Holocaust"
Thursday January 31 @5:30 pm TEC-128 – 12th Annual Student Award Ceremony – The Holocaust, Genocide and Stalinist Repression  

Tuesday, February 19, 1:45-3:00pm A-104 – "Karski & Lords of Humanity" by Sławomir Grünberg: documentary film screening followed by Q&A
Tuesday, February 26, 12:30-1:30 pm – "Resistance of the Heart" —  the Rosenstrasse Protest of February 27, 1943, Berlin