Team Members
Ellen Rosner Feig is an associate professor in the department of Composition and Literature at Bergen Community College. As a Griot Fellow for Malaria No More/ONE and a Carl Wilkens Fellow for United to End Genocide, Professor Feig has spent the majority of her career studying the literature of the marginalized, including those who have experienced genocide or conflict. In 2014-15, she will serve as a MetroCiti Teaching Fellow at Columbia University where she will address the growing educational gap in urban settings.
Professor Cristina Haedo first became involved in projects of Social Justice in her native country of Argentina.  As lead project director for a program that addressed the problem and needs of the "children of the street" in Argentina, she has continued to channel her passion for creating opportunities that teach and address Intercultural Understanding.  Over the past 10 years, Cristina has worked and collaborated with other professionals on Intercultural and Peace Initiatives, specifically creating and facilitating difficult dialogues on issues of Identity and Race, Social Justice, The Golden Rule, and Interfaith topics.  After Sept. 11, 2001, Cristina was instrumental in bringing Interfaith Month to the college community.  Cristina is an academic/community and personal counselor in the Department of Student Affairs and is the advisor to the Muslim Club.
Beverly Margolies was the Academic Web Designer at Bergen Community College and the developer of our center's website. As the daughter of Holocaust survivors, being a member of this team has special meaning.  She delivered the Inspiration Speech for Bergen's inaugural TEDx event in 2013: Collaborators, Bystanders and Heros.  Since starting at Bergen's CITL, Beverly leads technology workshops for faculty and staff at Bergen and for NJEdge. Prior to Bergen, Beverly was a software engineer and computer trainer.  She has earned a Master's in Educational Technology from NJCU.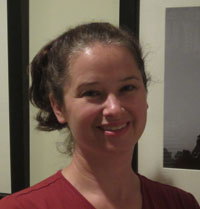 Sarah Shurts received her Ph.D. in Modern French History from the University of North Carolina at Chapel Hill in 2007. She is currently an Associate Professor of History at Bergen Community College where she teaches Western Civilization, Modern European History, and Genocide and Holocaust history. Her work with Bergen's CPJR includes organizing the Genocide Speaker Series that brings both scholars and survivors to campus to educate students about genocide. Her recent publications include "Redefining the Engagé: Intellectual Identity in Fin de Siècle France" Historical Reflections/Reflexions Historiques 38, no. 3 (2012), "Resentment and the right: a twentieth-century cycle of reaction, revaluation, and retreat by the French extreme right" European History Quarterly (2013), and "Continental Collaboration: the Transition from Ultranationalism to Pan-Europeanism by the Interwar French Fascist Right" French Politics, Culture & Society (2014) and "History in Harmony: The AHA "Tuning" Project in the Community College and the Closing of the Transfer Gap" The History Teacher (2016). She is a member of the governing council of the Western Society for French History and co-editor of the Journal of the Western Society for French History, and has served on American Historical Association's James Harvey Robinson Prize Committee and the Tuning Committee for the past three years. She is currently creating a set of teaching resources for Oxford University Press to accompany their new textbook, The West in Question, by Kurlander and Reiter.