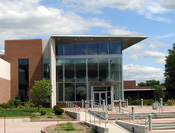 Consider holding your next meeting or training event at this welcoming, full service state-of-the-art facility. 
A magnet for both businesses and community organizations, the Moses Center offers cutting-edge
technology, plus amenities including catering services to meet your organizational needs.
Its friendly, professional staff works with you to customize your event at competitive rates.
Key features include:
Flexible seating for up to 300
Modular set up
Multimedia, teleconferencing & videoconferencing capabilities
Wireless connectivity throughout the building
Flat panel display systems
Smart podium with fully integrated control panel
State-of-the-art projection & sound systems
On-site technical personnel
Administered under the auspices of the Division of Continuing Education, Corporate and Public Sector Training.
For more information, please open documents below. To schedule a tour of the facilities, call 201-689-7629 or send e-mail to tmiceli@bergen.edu