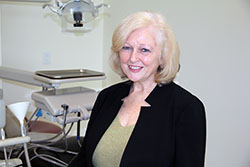 Joanna Campbell
PARAMUS, N.J. – Bergen Community College dental hygiene professor Joanna Campbell, RDH, FAADH, has earned the institution's 2018-19 National Institute for Staff and Organizational Development (NISOD) Excellence Award.
"Professor Campbell is an excellent instructor in the dental hygiene program who has distinguished herself at the College through her leadership in assessment and dedication to advising," Bergen Vice President of Academic Affairs William Mullaney, Ph.D., said.
"I am extremely honored and humbled to be selected for the NISOD Award among many qualified faculty at Bergen," she said. "I enjoy inspiring students to further their education and opportunities, so to be recognized for what I love doing is truly an honor."
Campbell, of Bronxville, New York, began teaching at Bergen in 1977 as an adjunct faculty member. Since then, she has served as a professor in the dental hygiene department and later as chair of the program from 2008 to 2012. Campbell has taught clinical dental hygiene, dental anatomy and radiology courses. Nominated by fellow faculty member Gail Fernandez, Campbell has also served as an assessment fellow and general education liaison to standardize critical thinking in courses at the College.
The NISOD honoree earned an A.S. in applied science and a B.A. in dental hygiene from the University of Bridgeport, an M.A. in health education from New York University, and an M.A. in computing in education from Teachers College, Columbia University.
Campbell is a fellow in the American Academy of Dental Hygiene and was appointed by the American Dental Association's Joint Commission on National Dental Examinations to serve on the National Board Dental Hygiene Test Construction Committee components II and III where she is responsible for recommending and implementing test specification changes in examinations in the field of dentistry. She is also a consultant member of the Commission on Dental Competency Assessments and a site visitor for the Commission on Dental Accreditation.
Campbell will accept her award in Austin, Texas this May during NISOD's annual international conference.
NISOD is a consortium of community and technical colleges committed to promoting and celebrating excellence in teaching, learning, and leadership. The NISOD Excellence Awards were established in 1991 to provide NISOD-member colleges with an opportunity to recognize individuals doing extraordinary work on their campuses. Since then, more than 25,000 recipients have been honored with the Award by their colleges. Each spring NISOD hosts an annual International Conference on Teaching and Leadership Excellence where Excellence Awards recipients celebrate their achievements and accomplishments at an awards dinner and celebration. To learn more about NISOD, visit www.nisod.org.
Based in Paramus, Bergen Community College (www.bergen.edu), a public two-year coeducational college, enrolls more than 14,000 students at locations in Paramus, the Philip Ciarco Jr. Learning Center in Hackensack and Bergen Community College at the Meadowlands in Lyndhurst. The College offers associate degree, certificate and continuing education programs in a variety of fields. More students graduate from Bergen than any other community college in the state.
# # #