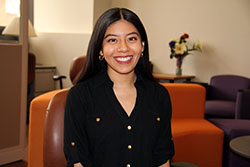 Alicia Moran
PARAMUS, N.J. – Bergen Community College honors student Alicia Moran, of Kearny, has been selected as a recipient of the 2019-20 Fund for Education Abroad Scholarship and will study in Seville, Spain this fall. She will receive $5,000.
"It is such an honor to be awarded the Simpson Sisters' Scholarship from the Fund for Education Abroad," she said. "I am so thankful for the generosity of the donors who continue to support students in their journey to study abroad."
"I was beyond excited when Alicia told me that she was awarded one of the scholarships for the fall," Amparo Codding, Bergen international student counselor, said. "I was not surprised, though, because Alicia had put time and effort in preparing and writing a strong application essay."
Moran, a first-generation Hispanic-American college student, currently serves as vice president of the Bergen Student Government Association, director of recruitment for Phi Theta Kappa and a student aide in the Office of Student Life. She aspires to work in computer forensics.
"I feel so blessed to have friends, family, and advisers who continue to encourage and support me in my goal to study in Spain," Moran said.
Moran's sister, Erin, who also attends Bergen, also received the FEA scholarship and is currently studying in Prague, Czech Republic.
The Fund for Education Abroad is a 501(c)(3) whose mission is to provide scholarships and ongoing support to students who are underrepresented among the US study abroad population. FEA makes life-changing, international education experiences accessible to all by supporting minority, community college and first-generation college students before, during, and after they participate in education abroad programs. Over 2,350 applications were considered and 135 FEA scholarships were awarded this year according to FEA headquarters. To learn more about the FEA, visit https://fundforeducationabroad.org/.
Based in Paramus, Bergen Community College (www.bergen.edu), a public two-year coeducational college, enrolls more than 14,000 students at locations in Paramus, the Philip Ciarco Jr. Learning Center in Hackensack and Bergen Community College at the Meadowlands in Lyndhurst. The College offers associate degree, certificate and continuing education programs in a variety of fields. More students graduate from Bergen than any other community college in the state.
# # #