Associate Professor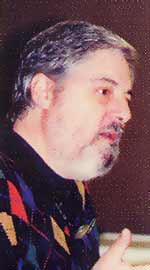 Office: A-335
Campus Extension: 612-5247
Email: akaufman@bergen.edu
Degrees: B.A., English, The College of Staten Island, CUNY; M.A., English, The College of Staten Island; Ph.D., American Studies and English (minor in the Theory and Teaching of Composition), Indiana University.
Year Started at BCC: 1989.
Areas of Specialization: American Literature, Composition.
Courses Taught: American Literature to 1880, American Literature 1880 to Present; American Ethnic Literature — a course that I designed, World Literature to 1650, World Literature 1650-Present, English Composition I and II and Creative Writing (WRT-204). In addition to regular sections also teaches sections of LIT-201, 202, 203, 204, and WRT-201 in the BCC Honors Program.
Selected Publications: Editor, Our Identities: Multicultural Readings for Writers. Iowa: Kendall/Hunt, 1994. (This is a reader for students in English Composition I courses.) Twentieth-Century American Fiction: A Study Guide. Indiana University Independent Studies Program, 1984. "We're Saxons… and Not Dagoes: The Role of Racism in Jack London's Late Novels." Jack London Newsletter, 16, no. 3 (Sept-Dec. 1983): 96-103.
Other Accomplishments: Director of the BCC Honors Program; Treasurer of the BCCFA; Fellow, Princeton Mid-Career Fellowship Program for Community College Faculty in New Jersey, Princeton University (2001-2002); Member, Editorial Review Panel, Thought and Action, National Education Association journal of Higher Education issues (1999-2002); English Representative, Bergen Community College team selected to participate in American Association of Community Colleges Project on "Exploring America's Communities: In Search of Common Ground." Sponsored by National Endowment for the Humanities (January-Dec.1996); Coordinator, BCC Faculty Development Program (1997-2000); Program Coordinator, Literature/Composition, BCC (1991-1995).