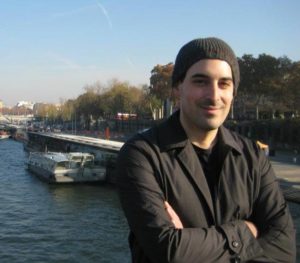 Assistant Professor
Office: L-330
Campus Extension: 5248
Email: dsalerno1@bergen.edu

Degrees: Ph.D., Boston University (2014), M.A., Boston University (2004)  B.A., Rutgers (2002)
Year Started at BCC: 2012
Areas of Specialization:
Areas of Specialization:  Composition, Shakespeare, Renaissance and Medieval Literature, Religion and Literature
Courses Taught: Composition I and II, Shakespeare, English Literature I, World Literature I and II
Articles and Chapters:  
"'What then is Power?': Elizabeth's Boethius and the Renunciation of Tyranny" (In progress)
"Isabella's Silence: Staging Asceticism in Measure for Measure." Shakespeare in Performance. Ed. Eric  Brown and Estelle Rivier.  Cambridge, UK: Cambridge Scholars Press, 2014. 1-21
"I Will Have You Bend: Language and the Discourse of Power in Deadwood."  Literary Imagination 12 (2010). 190-210.
Recent Conference Talks:
"The Roughest Berry on the Rudest Hedge: Asceticism and Masculine Identity in Henry V." Renaissance Society of America Conference, Boston, MA. 2016.
"Chaucer Reformed: Protestant Chastity and Catholic Celibacy in The Two Noble Kinsmen." Renaissance Society of America Conference, Berlin, Germany. 2015.
"High School/Community College Collaboration in Composition Pedagogy," Panel Chair, TYCA-NE Conference, Morristown, NJ 2013.
"Shakespeare and Pedagogy: A Roundtable Discussion" Participant in session at the Shakespeare in Performance International Conference, Farmington, ME, May 2012.