The Career and Workforce Development Center strives to prepare students to meet their professional goals. Comprehensive services such as: career advisement, academic guidance, professional development, experiential learning and employment networks provide Bergen students/alumni with the tools necessary to achieve their goals.
Location: Pitkin Education Building, Student Center, SC111
Email: careercenter@bergen.edu
Career Resources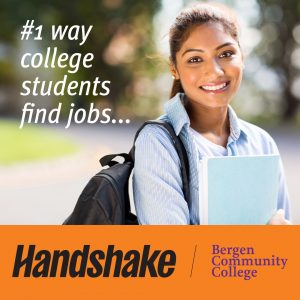 Work Study and On-Campus Employment
The Career Center handles the Student College Employment paperwork for Federal Work Study and On-Campus Employment.
Workforce Wednesdays
Gives students the opportunity to meet with local employers at our Paramus campus
Every Wednesday usually between 10:00 a.m. and 2:00 p.m. in the Student Center of the Pitkin Education Building
Spring 2023 Employers
Over the course of the Spring 2023 semester, these local companies visited our campus to recruit our amazing BCC students!
Job Fairs
Each Spring and Fall semester, over 40 companies come on campus to take part in the Career and Workforce Development Center's Job Fair.
Our Spring 2023 Job Fair took place on Thursday, April 27th inside the Student Center of the Pitkin Education Building at the College's main campus in Paramus.  View the list of attending employers below and feel free to reach out to the recruiters!
Internship Opportunities
The HACU National Internship Program
The Hispanic Association of Colleges and Universities offers paid internships in federal agencies to students from all majors and backgrounds.
Chegg Internships
Find internships and employment opportunities in the largest internship marketplace. Search paid internships and part-time jobs to help start your career!
DVRS & OFCCP Job Fair
The New Jersey Division of Vocational Rehabilitation Services (DVRS) in collaboration with the Office of Federal Contract Compliance Programs (OFCCP) will hold a targeted job fair for individuals with disabilities and Veterans with service-connected disabilities. Meet with various federal contractors from these Industry Sectors: Pharmaceutical, Building and Trades, Financial and Health Care to name a few. This event is both in-person (location TBA) and virtual for all participants. Please RSVP for the fair by visiting this link: Hiring Fair sponsored by OFCCP and DVRS (HYBRID) Federal Contractors Tickets, Wed, 28 Jun 2023 at 10:00 AM | Eventbrite
NJ Career Accelerator Internship Grant Program
There are over 125 employers seeking over 500 interns across the state. New opportunities are being added regularly and are being posted on Handshake!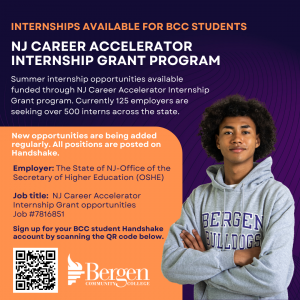 Volunteer Opportunities