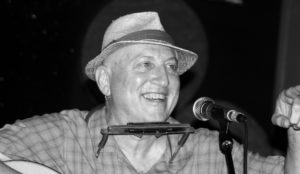 Professor of Music
Office Location: West Hall 223
Phone: (201) 493-3531
Email: akrikun@bergen.edu
Andy Krikun, Ph.D. is Professor of Music at Bergen Community College where he teaches courses in songwriting, world music and music business. He holds a Master's degree in Ethnomusicology from UCLA and a doctorate in Music Education from NYU. His research and scholarship have appeared in peer-reviewed journals, and he has presented his work at several international conferences. In 2006, he was awarded a NISOD Teaching Excellence Award from the University of Texas. He is an executive board member of the Association of Popular Music Education, a non-profit organization promoting and advancing popular music at all levels of education. As a singer-songwriter, Andy has maintained an active career as a performer, composer, and recording artist. His band, Andy and the Rattlesnakes, was a seminal force in the L.A. Punk/New Wave scene in the late 1970s and early 1980s. A compilation CD of the band's recordings, Last Summer to Dance, was released in 2006 and the band is currently working on a new album. He has written music for theatre and film, including the 1996 comedy The Shot, and continues to write, perform, and record for eclectic musical projects.