A phlebotomist has the responsibility of drawing blood from patients for various testing or donation purposes. A phlebotomist must follow safety protocols and regulations, interact with patients and keep accurate records.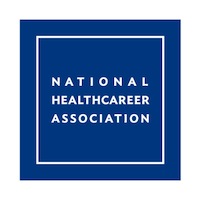 This program is included in the PCT course or can be taken as a stand alone.
Skills required:
Data Entry
Attention to Detail
Interpersonal Communication
Good Motor Skills, hand-eye coordination, must be careful
Empathy, a friendly smile and a gentle touch
Employers: Phlebotomists are employed at hospitals, laboratories, physician's offices, donation facilities and other health care centers. 
Education: Students are eligible to sit for the national certification examination offered by NHA (National HealthCareers Association).  
Job Outlook: Employment of phlebotomists is projected to grow 17 percent from 2019 to 2029, much faster than the average for all occupations. Hospitals, diagnostic laboratories, blood donor centers, and other locations will need phlebotomists to perform blood work.
For more information about this program, click here to schedule an appointment with a Success Coach.