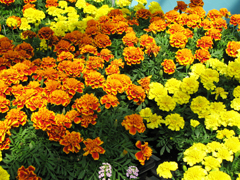 Not everyone wants a career in Horticulture. Many people just enjoy plants for a hobby, they are retired, they just love to garden or they have a thirst for knowledge for its own sake. The Horticulture Program encourages you to take courses. You can broaden your basic knowledge of plants or concentrate your interests in a particular area such as indoor plants,outdoor tree and shrub identification and care, the basics of gardening,pest identification and management, garden design, floral design, lawn care and even plant biology.
You need not matriculate (enter a degree or certificate program) to take a course. The college allows students to take up to 12 credits of courses without matriculating. Courses may be audited. This means you can take a course for no credit or grade, and then you do not have to take exams or other course requirements for a grade. Also some courses have prerequisites which may be waived by permission of the instructor for various reasons such as a person's previous experience.
Age is not an issue! We have students from 18 to 85! No prior experience or knowledge is needed. Join us! Who knows? You may just decide to make a career out of it!