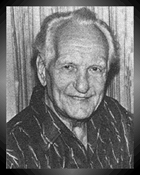 The Emil Buehler Trust was established in 1984 to perpetuate the memory of Emil Buehler and his commitment to aviation science and technology.
To Emil Buehler – aviation visionary, architect and engineer – the majesty and mystery of flight was more than a private interest. It was a vision to be shared – during his lifetime and beyond. It is this same vision that is perpetuated today through the continuing philanthropic involvement of the Buehler Trust.
Emil Buehler was born April 24, 1899 in Alpirsbach, a small town in the Black Forest area of Germany. One of the very few local children to achieve a high school level of education, he first experienced flying at age 17 as a pilot in the World War I German navy. Following the war, he graduated from the University of Stuttgart with degrees in architecture and engineering – moving to America within the year to pursue his career.
A pioneer in aeronautics as well as a designer of buildings, Mr. Buehler was actively involved in many of the significant aviation events that took place in New Jersey during the late 1920's and early 1930's. He operated his own school of aeronautics at New Jersey's Teterboro Airport, ran a seaplane base on the Hudson River, and later designed and personally supervised the construction of an aviation facility at the Executive Airport in Fort Lauderdale.
His aeronautic involvements also included funding the development of a wind tunnel with Mach 3 capability – allowing the testing of space vehicles in design configurations at speeds up to three times the speed of sound. The internationally-known Emil Buehler Mach 3 wind tunnel is located at Rutgers, the State of New Jersey university, which in 1974 conferred on Emil Buehler the title of Eminent Engineer.
His legacy of philanthropic commitment extends to a number of leading educational institutions, including Bergen Community College. We are honored to carry on his vision and passion in the aviation world.