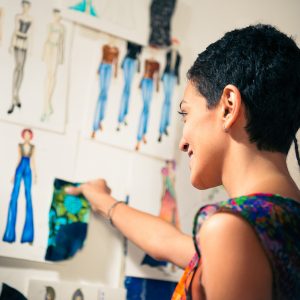 Fashion Design program offers students the necessary credentials, industry knowledge, and hands-on experience to earn their professional certification in fashion design.
For students who want to learn fashion detail for personal interests, prepare for a career in the fashion industry, or build their portfolios for higher education opportunities, our fashion design courses have something to offer for everyone!
Learn how to sew, design clothes, and develop an eye for fashion detail. Use your imagination and ingenuity to create your designs. In these "hands-on" courses, you will learn the basic principles and small details. After completing each course, you will receive a certificate of completion.
All are welcome to enroll in any class as an elective course for enjoyment without being part of the certificate program. If you have questions, please call 201-447-7488 or email continuinged@bergen.edu
Fashion Design Certificates:
Sewing Certificate
Fashion Design Certificate
---
Online Courses. Anytime. Anywhere.