Student-Run Restaurants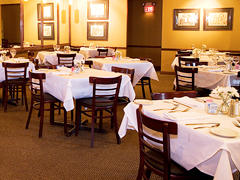 Culinary, Baking and Hospitality Management students work together, under the direction of the faculty, to deliver high quality food and service to the public. Throughout the semester, students rotate between stations as part of their laboratory learning experience. Your support gives each student a change to work a variety of positions.
The Bergen Café
The "Bergen Cafe" in C-210 at Pitkin Hall at the Paramus Campus is now open to the public for Lunch during the Fall semester on Tuesdays from 11:30 A.M.  to 12:45 P.M. A modified buffet for $8 includes beverages, soups, made-to-order salads, main courses, side dishes, artisan breads and fine pastries.  Seating is on a first-come-first-served basis during the Fall.
View photos from Bergen's culinary classes .
The Bergen Room Bistro
The Bergen Room Bistro in C-210 at Pitkin Hall offers a formal setting for full table service, and is open for Dinner during the Spring semester. The Dining Room accommodates approximately 35-40 patrons at each seating. Space is limited and reservations are required.
To request reservations call (201) 447-7222. The request can be left on voicemail. Be sure to include your full name, phone number, number of people in your party, date and time. Confirmations will be returned on the next day of class to confirm status of request.
Menu and price subject to change based on market availability and students attendance
Proceeds circulate back to Bergen Community College
We are proud to display floral arrangements made by students of the Horticulture department
Student Help Wanted
We are trying to improve the experience at The Bergen Café and we are looking for:
Graphic design – Create a logo and marketing materials
Musicians –play during café hours – 11:30 A.M. – 12:45 P.M.
Interior design – Help us refresh the look of the "The Bergen Café" and "The Bergen Room Bistro"
Photography – Display your talent on our walls
For more information, please contact Tomer Zilkha