Student Government Association (SGA)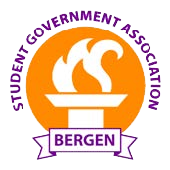 The Student Government Association (SGA) is the voice of Bergen Community College's students. We play an active role in the shared governance of the College.
The Student Government Association serves as a link between the student body and the college administration, and oversees the administrative aspects of student clubs and organizations.
The Student Government Association is committed to the concept of a democratic form to develop the academic, social, and cultural growth of the student body. The members of our organization are also committed to the fair representation of the student body, and the fulfillment of its needs.
Recognize What You Can Achieve.
---
Get Involved!

---
Consider getting involved in the Student Government Association for the 2019-2020 school year.
General SGA Application

 
Students can get involved in various boards of the Student Government Association for the 2019-2020 academic year.
In order to apply for positions on the Senate Board, Judiciary Board, or Student Activities Board please fill out the SGA Online Application here.
The application is due on Wednesday, October 2nd, 2019.
If you have any questions please contact SGA President Bernadette Duran at [email protected].
---
SGA Executive Board – Fall 2019 Elections
---
There are two vacant positions this fall – Treasurer and Executive Assistant. The election period is from Monday, September 23rd at 9:00 AM to Friday, September 27th at 4:00 PM. Each Bergen student can cast one ballot.
Results will be announced on or before Tuesday, October 1st. If you have any questions about this election or the SGA in general please contact the SGA Chief Justice Robin Yoo at [email protected].
Treasurer Candidate(s)
Name: Juliana Pinto
Major: Professional Studies – Business Administration.
Bio: As an environmentalist, and as your treasurer, I will make sure that Bergen will become a cleaner, and more environmental-friendly institution. By educating and becoming more aware, we can help save our planet by working together!
Personal Essay: I am running for the treasurer position of the Student Government Association because I know that I am the perfect advocate and representation for my favorite organization in Bergen Community College! The Student Government is important to me because it allows me to be apart of making my school a safer and an active place. To have a voice of activism, and to have an influence on the decisions going on throughout my school means a lot to me. I am interested to find out what my peers are concerned about, about our school, and what activities and regulations they are looking for. Therefore, I will do so by listening to and understanding Bergen's students' wants and needs. It interests me what the Student Government Association spends its funds on, and to use my knowledge and student experience to influence purchases that contribute to my school is important to me. Being apart of this organization motivates me to do better as a student, peer, friend, and future graduate of Bergen Community College.
Goals Essay: I am very excited about the ideas, plans, and events that will be held this year because of all the work that the Student Government does. It is so amazing to see people of the same interests collaborate for a change that will forever improve our school. I do plan on initiating a cost-friendly method of recycling, which is apart of a plan discussed last year, that is easy and efficient. My goal at the end of the year is to not have extra money that was not used during this term, we should use all funds to promote SGA, use for student life, student trips, and school accessories such as more water fountains to fill water containers, and picnic tables outside. Although these ideas are simple, and may seem not to affect many students, they do matter and it will make at least one student have a better experience here at Bergen Community College.
Executive Assistant Candidate(s)
Name: Elijah Serrano
Major: Professional Studies – General.
Bio: I was born and raised in the city of Newark. I attended and graduated from Phillips Academy Charter School. I later attended my first high school, Kearny Christian Academy, where I stayed for two years. I moved to West Orange and attended their high school and graduated.
Personal Essay: I want to become the Executive Assistant because I want to be apart of the change. I want to be able to hear the thought process of the decision that openly and directly affect student life. During my first year at Bergen, a lot of people around me complained on some changes that were made on campus. They where confused about why there was new polices and why they should care. SGA does a great job at delegating between staff and students but the one on one talks to students are lacking. Granted if they cared enough, they should check their emails or be more involved on campus but what about the people who have difficulty doing these things? Not every student has the luxury to check their emails or be more involved on campus besides their class. It takes a lot of time to reach students face to face and discuss important topics but in some cases their needed.
Goals Essay: My goals and initiatives for the 2019-2020 school year is to help design a better lunch plan, help improve communication with the students at Bergen and I would like there to be more opportunities for students to see what SGA does to help the students not just the end result.
Name: Layla Williams
Major: Professional Studies – General.
Bio: I am a Summer Intensive Student, a writer, a womanist, demisexual, and an astrology enthusiast. I have a driving passion to help others and loved working in customer service. Right now I am a Barista at Starbucks of GSP and a member of Bergen's Student Life Student Staff.
Personal Essay: I 101% believe SGA's Secretary position was made for me and truly believe this role would be the icing on the cake for my Bergen experience. I am very serious when it comes to my work and believe it would be amazing to join SGA's Executive team so I can further appreciate the school for what it's worth. I hope to improve the student body's individual experience as apart of SGA. Being apart of Student Life's Student Staff, I am somewhat familiar with several resources Bergen offers but feel SGA could give me even more of a well-rounded idea of what goes on and how. The Executive Assistant role would be my ideal even if other positions were open—as people relations and assisting management is kind of my specialty. Working with others for others gives me satisfaction more than anything else and I'd probably be keeping track of every SGA meeting regardless of my role on paper. I tend to take on coordinating roles in which I can categorize and plan all that I do. In groups, I find myself highly confident in these sorts of positions. Based on all of this (and the credentials I don't have character space to mention!) I believe I am more than equipped for this particular position on SGA's executive board and look forward to joining!
Goals Essay: In high school I was voted "Most Likely to be Late to Graduation" and rightfully so. In all of my four years at GHS—despite being number 40 in my class academically, I had a total of 5 dozen absences and was late practically every day. Now, I make sure my time and resources are used as productively as possible. Another note on my goals list was to become a member of PTK at Bergen—the #1 distinguished chapter worldwide. In order for me to do so following the completion of my first semester, I will need to do more than be a straight A and B student. As an office assistant in student life (one of my recently completed goals!), I have become aware of the many roles here available on campus for students—pretty early on. Working with club day advisors and the Student Life directors this past month or so has encouraged me to apply myself beyond the classroom and make use of these various activities. Joining SGA and College LEADS also are on my list of initiatives as a result, this semester. Most of my goals for the next year in and outside of BCC however, holistically revolve around self assurance in all that I'm involved with and ensuring my work now contributes in some grand way to how I approach things in the future. 🙂
---
2019-2020 SGA Executive Board
---
President
Name: Bernadette Duran
Program of Study: General Studies
Email: [email protected]
Phone: (201) 447-7452.
Vice President
Name: Helen Witte
Program of Study: Philosophy
Email: [email protected]
Phone: (201) 447-7452.
Treasurer/Speaker of the House of Representatives
Vacant
Chief Justice
Name: Robin Yoo
Program of Study: Psychology
Email: [email protected]
Phone: (201) 447-7452.



Executive Assistant
Vacant
---
SGA Advising Team
---
Greg Fenkart
Coordinator, Student Development
Advisor – SGA Senate & SGA House of Representatives
Phone: (201)447-9270
E-mail: [email protected]
Office Location – A101C, Pitkin Education Center
Ian Wolf
Coordinator, Student Conduct
Advisor – SGA Judiciary
Phone: (201)447-7464
E-mail: [email protected]
Office Location – A101E, Pitkin Education Center
Jared Farra
Student Life Generalist
Advisor – Student Activities Board
Phone: (201)879-3060
E-mail: [email protected]
Office Location – A-101B, Pitkin Education Center
---
SGA Documents
---