Student Government Association (SGA)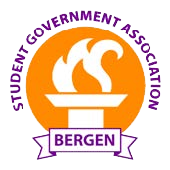 The Student Government Association (SGA) is the voice of Bergen Community College's students. We play an active role in the shared governance of the College.
The Student Government Association serves as a link between the student body and the college administration, and oversees the administrative aspects of student clubs and organizations.
The Student Government Association is committed to the concept of a democratic form to develop the academic, social, and cultural growth of the student body. The members of our organization are also committed to the fair representation of the student body, and the fulfillment of its needs.
Recognize What You Can Achieve
Join SGA
2018-2019 Executive Board
To run in the Spring 2018 Elections for the 2018-2019 Executive Board please complete the Application.
 Responsibilities:
Each candidate interested in running is required to fill out the application packet made available online on Friday, March 23, 2018.
 Each candidate is responsible of completing all parts of the application including:
Online Application
150 Signatures from students at Bergen Community College
2 total presentations to registered student organizations
Resume
Attend on SGA Senate Meeting and introduce yourself in Public Sector (3/28 or 4/4)
500 word maximum essay (12 point font, Times New Roman font, and double spaced) on why you are interested in running, goals/initiatives for 2018-2019 academic term, and why you are the best candidate suited for this position
Attend either a College Council meeting (March 22) or the Office of Student Life's Leadership Weekend (March 23 – March 25 or a previous year)
Obtain signatures of 2 out of the 4 SGA advisors
Candidates are responsible if elected to attend all SGA related meetings. These include but are not limited to:
Advisor Meetings: Mondays @ 12:30-1:30PM
Senate Meetings: Wednesdays @ 12:30-1:30PM
Executive Board Meetings: Thursdays @ 12:30-1:30PM
Professional Development Day (once every semester)
Additionally, each candidate that is elected into an Executive Board position must attend a training retreat on Monday, May 14, 2018 and Tuesday, May 15, 2018.
Please review the 2018 Election Guidelines and follow up accordingly.
If you have any questions about the elections process please contact the 2018 Elections Chair Keanu Carbon at [email protected].
The Elections Committee is advised by SGA Advisor Ian Wolf who can be reached at [email protected].
Senate
BECOME AN SGA SENATOR: Any SGA Senator applicant needs to do the following:

Complete and submit the SGA Senate Application Form: APPLY HERE (Online Dynamic Form);
Gather and submit the required SGA Senate Application Signatures:  Click here to download the SGA Signature Sheets (PDF Form) .
OR
The Student Government Association Senate meets on Wednesdays at 12:30 P.M. during the Fall and Spring semesters.
As a Senator applicant, it is your responsibility to follow and adhere to the Senator Application timeline and process.
Please note that the deadline to submit this application and all supporting documentation is Tuesday, February 6, 2018 at 11:59 PM.
– January 20, 2018        Application opens
– February 6, 2018       Application due
– Date TBD                    Senators Training
– February 14, 2017      New Senators are Sworn In
Mandatory Meeting Times and Training Retreat
Applicants must be able to attend our weekly Senate Meetings (every Wednesday, 12:30 P.M. – 1:30 P.M.).
Unfortunately, if you have classes, extracurricular, or any other obligations during these times, you will be ineligible to become a senator.
Being a Senator = Striving for Greatness
Being a Senator is equal parts fun, rewarding, and hard work. Undoubtedly, you'll meet new and interesting people, make friends, learn how to be an effective leader, and make a positive impact in the lives of Bergen Community College's student body.
As a senator, your days will be filled with excitement, while your responsibilities will be constantly transforming, as you conduct important research, collect data from student surveys, draft impactful legislation, interact with students and faculty, and work towards improving Bergen Community College.
We want to thank you for your interest in joining the Student Government Association, and we hope to be working with you, soon!
2017-2018 SGA Executive Board
President
Name: Sibora Peca
Program of Study: Biotechnology
Email: [email protected]
Phone: (201) 447-7452.



Vice President
Name: Thomas Lotito
Program of Study: Political Science
Email: [email protected]
Phone: (201) 447-7452.
Treasurer/Speaker of the House of Representatives
Name: Doreta Biba
Program of Study: Business Administration Accounting
Email: [email protected]
Phone: (201)-447-7452
Chief Justice
Name: Alicia Moran
Program of Study: Information Technology
Email: [email protected]
Phone: (201) 447-7452.



Executive Assistant
Name: Nicole Cacciatore
Program of Study: Diagnostic Medical Sonography
Email: [email protected]
Phone: (201)-447-7452
Contact SGA
SGA Advising Team

Rachel Lerner Colucci
Dean, Student Life & Conduct
Advisor – SGA Senate
Phone: (201)447-7883
E-mail: [email protected]
Office Location – L123C, Pitkin Education Center
Greg Fenkart
Coordinator, Student Development
Advisor – SGA House of Representatives
Phone: (201)447-9270
E-mail: [email protected]
Office Location – SC110C, Pitkin Education Center
Ian Wolf
Coordinator, Student Development
Advisor – SGA Judiciary
Phone: (201)447-7464
E-mail: [email protected]
Office Location – SC110C, Pitkin Education Center
Mecheline Farhat
Faculty Advisor
Phone: (201)447-3583
E-mail: [email protected]
Office Location – 406LY (BCC at the Meadowlands/Lyndhurst)
SGA Documents