In addition to the programs featured below, to see the full calendar of events click HERE. Make sure to check back frequently, as new programs and events are added all the time!
Featured Programs
"What Does it Mean to be Anti-Racist?"
Featuring Dr. Warren Chalklen
Thursday November 19th, 12:30 – 2:00 PM
(Pre-registration required)
Special Speaker Event: Shawn Harper
Presented by Future Business Leaders of America (FBLA)
Tuesday November 17th, 3:15 PM
(event link & details)
Mystic Aquarium Virtual Experience Series
These will be live, interactive events that include expert staff demonstrations, animal-feedings, and more!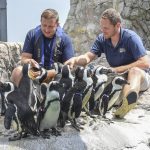 Sharks – Thursday October 29th, 12:30 PM (event link & details)

Animal Rescue – Tuesday November 17th, 11:00 AM (event link & details)

Penguins – Wednesday December 2nd, 2:30 PM (event link & details)

Coming in Spring 2021 – Beluga Whales, Seal & Sea Lion Encounter, and Aquarium Careers
Virtual Program Recordings
Bergen community members can review all recorded virtual programming by visiting the College's YouTube playlist set up specifically for these programs.