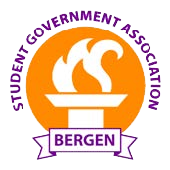 The Student Government Association (SGA) is the voice of Bergen Community College's students. We play an active role in the shared governance of the College.
The Student Government Association serves as a link between the student body and the college administration, and oversees the administrative aspects of student clubs and organizations.
The Student Government Association is committed to the concept of a democratic form to develop the academic, social, and cultural growth of the student body. The members of our organization are also committed to the fair representation of the student body, and the fulfillment of its needs.
Recognize What You Can Achieve.
SGA Executive Board Applications Now Open – Due April 13th @ 5PM
The Student Government Association Executive Board Applications are now open for the 2022-2023 academic year for those interested in running for the SGA's Executive Board Positions; SGA President, Vice President, Chief Justice, Treasurer, and Executive Assistant. As a potential candidate, it is your responsibility to follow and adhere to all of the information contained in the following documents. Therefore, please make sure to read this entire packet thoroughly. If you at any time have any questions regarding the Election Guidelines, please contact Elections Chair, Christina Feinroth, at 
sgapresident@me.bergen.edu
.
SGA Election Guidelines – 2022
SGA Supplemental Application – 2022
Connect with the SGA!
For more information and updates on the SGA activities, please check out the official Student Government Association website:
https://www.bergensga.org
or follow us on Instagram
@bergen_sga
---
2021-2022 SGA Executive Board
---
President
Name: Christina Feinroth
Program of Study: English Literature
Email: sgapresident@me.bergen.edu
Phone: (201) 879-7210
Room: A-101C
Vice President
Name: Justin Diaz
Program of Study: Engineering Science
Email: sgavicepresident@me.bergen.edu
Phone: (201) 879-7226
Room: A-101B
Treasurer
Name: Amanda Kulesza
Program of Study: Medical Office Assistant
Email: sgatreasurer@me.bergen.edu
Phone: (201) 879-7230
Room: A-101D
Executive Secretary
Name: Shanaz "Shay" Rafique
Program of Study: Fine & Performing Arts, General
Email: sgaexecutivesecretary@me.bergen.edu
Phone: (201) 879-7452
Room: A-101A
---
SGA Advising Team
---
Greg Fenkart
Assistant Director, Student Life
Advisor – SGA Senate
Phone: (201)447-9270
E-mail: gfenkart@bergen.edu
Office Location – L-123, Pitkin Education Center
Jenny Gamez
Coordinator, Student Conduct
Advisor – SGA Judiciary
Phone: (201)447-7906
E-mail: jgamez@bergen.edu
Office Location – L-123, Pitkin Education Center
Jared Farra
Student Life Generalist
Advisor – Student Activities Board
Phone: (201)879-3060
E-mail: jfarra1@bergen.edu
Office Location – L-123, Pitkin Education Center
Professor Mecheline Farhat
Assistant Professor, Department of Social Sciences
Academic Advisor
E-mail: mfarhat@bergen.edu
Office Location – 406, Lyndhurst Campus
---
SGA Documents
---