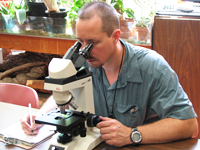 The Horticulture Program is located in Ender Hall on the East end of the BCC campus
Classrooms
There are three primary classrooms for Horticulture, E-186, E-187 and E-189. Additional classrooms are used for general lecture sessions as needed.
E-186 features lectures and labs that use the attached greenhouse and the large commercial florist refrigerator there.
E-187 is used for lectures and is well equipped for science based labs with both light and dissecting microscopes. Collections of preserved plants, insects/pests and plant disease specimens are available for reference.
E-189 is a specialized classroom with computers to teach computer assisted design (CAD). As part of the Landscape Design/Build curriculum, students will have access to computers with DynaSCAPE Landscape, Color, and Quote software.
Greenhouses and storage
The program is very proud of its state-of-the-art four room greenhouse which consists of a head house, conservatory, production and plant propagation rooms that have computer environmental control systems.
The various greenhouse rooms are used for labs, student projects, plant production, plant propagation, greenhouse management, hydroponics, plant collections, plant sales etc., enabling students to work with live plants. In addition, the program has plastic covered greenhouses for over-wintering or shading plants and storage sheds for equipment and materials.
Tissue Culture Facilities
Students have access to a tissue culture incubator and two reverse air flow hoods in Ender Hall for tissue culture as part of the Plant Propagation curriculum.
Bergen Community College Grounds
Even the college grounds become a living "hands on" laboratory for the horticulture students.Here the students can practice site analysis, pruning, turf management, planting, soil improvement, and construction. Many past students' projects beautify the campus including landscaped beds, paths, retaining walls, patios and memorial gardens. Students have access to BCC Grounds Dept. equipment as well.