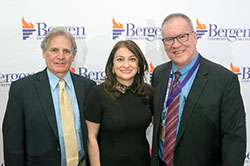 Honorees Ed Kochakji and Goli Kocharian, joined by Bergen President Michael D. Redmond, Ph.D.
PARAMUS, N.J. – With the backdrop of the institution's 50th anniversary, Bergen Community College graduates from the last five decades gathered Jan. 11 for the annual alumni recognition dinner at the Terrace at Biagio's, sharing memories and celebrating successes of the last 50 years.
During his remarks at the event, Bergen President Michael D. Redmond, Ph.D., applauded the alumni in attendance and encouraged them to help champion their alma mater.
"Our alumni are important to us," he said. "These graduates remain part of the College's legacy – a legacy that has helped shape our community through a 50-year history in Bergen County, where our faculty and staff have helped thousands of students achieve their goals of earning a college degree or certificate. Not only does your success reflect upon the education you received at Bergen, but we need your help in being spokespersons for the College. We need your help, your voices, your activism in your communities."
The event, which supported the College's Alumni Network and Bergen Community College Foundation, recognized three honorees: dental hygiene professor and class of 2002 graduate Goli Kocharian (Distinguished Achievement Award) of Saddle Brook, wrestling coach and NJCAA Wrestling Hall of Fame inductee Ed Kochakji (Living Legacy Award) of Montvale, and class of 2015 nursing graduate Jon Silva (Rising Star Award) of Dumont, who could not attend due to a professional obligation.
More than 120 guests attended the dinner, one of the signature events of the College's ongoing 50th anniversary celebration. Guests included Bergen County Executive James J. Tedesco III, Bergen County Board of Chosen Freeholders Chair Thomas Sullivan and Freeholder Vice Chair Germaine Ortiz, who presented the honorees with signed commendations. Tedesco and Ortiz serve on the College's 50th anniversary steering committee, which leads the institution's efforts for planning events related to the celebration.
Commemorating the 1967 hiring of Bergen's first president, Sidney Silverman, Ph.D., and the approval of the master plan that developed the College's main campus at 400 Paramus Road, the institution launched its 50th anniversary celebration last fall. Among the initiatives, the College has launched the "$50 for 50" fundraising campaign, which will provide student scholarships and educational support. Donors have already contributed approximately $90,000. Future events include an April 12 open house and an April 19 anniversary gala at the Venetian in Garfield. For more information on the events, or to donate to the $50 for 50 campaign, visit 50.bergen.edu.
Since its inception, Bergen has grown into the state's largest community college with approximately 14,000 students taking classes this semester. Ranked No. 1 in the state for associate degree graduates, alumni have transferred to every Ivy League institution and rank 11th in the U.S. for mid-career salaries, according to Payscale.
Based in Paramus, Bergen Community College (www.bergen.edu), a public two-year coeducational college celebrating its 50th anniversary in 2017-18, enrolls 14,000 students at locations in Paramus, the Philip Ciarco Jr. Learning Center in Hackensack and Bergen Community College at the Meadowlands in Lyndhurst. The College offers associate degree, certificate and continuing education programs in a variety of fields. More students graduate from Bergen than any other community college in the state.
# # #