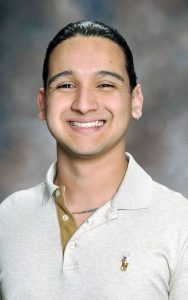 PARAMUS, N.J. – Recent Bergen Community College graduate Rene Bulnes has earned the $55,000 per year Jack Kent Cooke Foundation's Undergraduate Transfer Scholarship – the most prestigious award for community college students. Bulnes represents one of only 60 students to receive this year's award among more than 1,700 who applied.
"This is a once in a lifetime opportunity that I'm still in disbelief," he said. "I want my accomplishments and triumphs to serve as a source of motivation and empowerment for immigrants and underrepresented minorities, inspiring them to pursue their aspirations with determination and resilience."
Bulnes, of Lodi, graduated from Bergen this May with an associate of applied science in computer science. Among his work at the College, Bulnes participated in a research internship, served as vice president of the STEM Student Union and remained an active part of Phi Theta Kappa, the honor society of two-year colleges.
This month, Bulnes presented at the 2023 Enterprise Computing Conference at Marist College on a research project he completed last summer – a hyperledger fabric-based solution for secure transcript management. He represented the only community college student to present at the conference.
Bulnes plans to transfer to Stevens Institute of Technology to pursue a bachelor's degree in computer engineering, while also aspiring to earn a master's degree in information science. The Cooke scholarship will cover up to $55,000 each year at Stevens.
"My aim is to become a leader in technology and contribute to the STEM workforce by innovating and creating tools that can benefit both the industry and my community," Bulnes said.
Along with financial support, Cooke Undergraduate Transfer Scholars receive comprehensive educational advising to guide them through the process of transitioning to a four-year college and preparing for their careers. Scholars also receive opportunities for internships, study abroad and graduate school funding, as well as connection to a thriving network of more than 3,000 Cooke scholars and alumni. Twenty-one Bergen students have earned the scholarship during the last decade.
The Cooke Foundation is dedicated to advancing the education of exceptionally promising students who have financial need. Since 2000, the Foundation has awarded $250 million in scholarships to more than 3,200 students.
Based in Paramus, Bergen Community College (www.bergen.edu), a public two-year coeducational college, enrolls more than 13,000 students at locations in Paramus, the Philip Ciarco Jr. Learning Center in Hackensack and Bergen Community College at the Meadowlands in Lyndhurst. The College offers associate degree, certificate and continuing education programs in a variety of fields. More students graduate from Bergen than any other community college in the state.
# # #