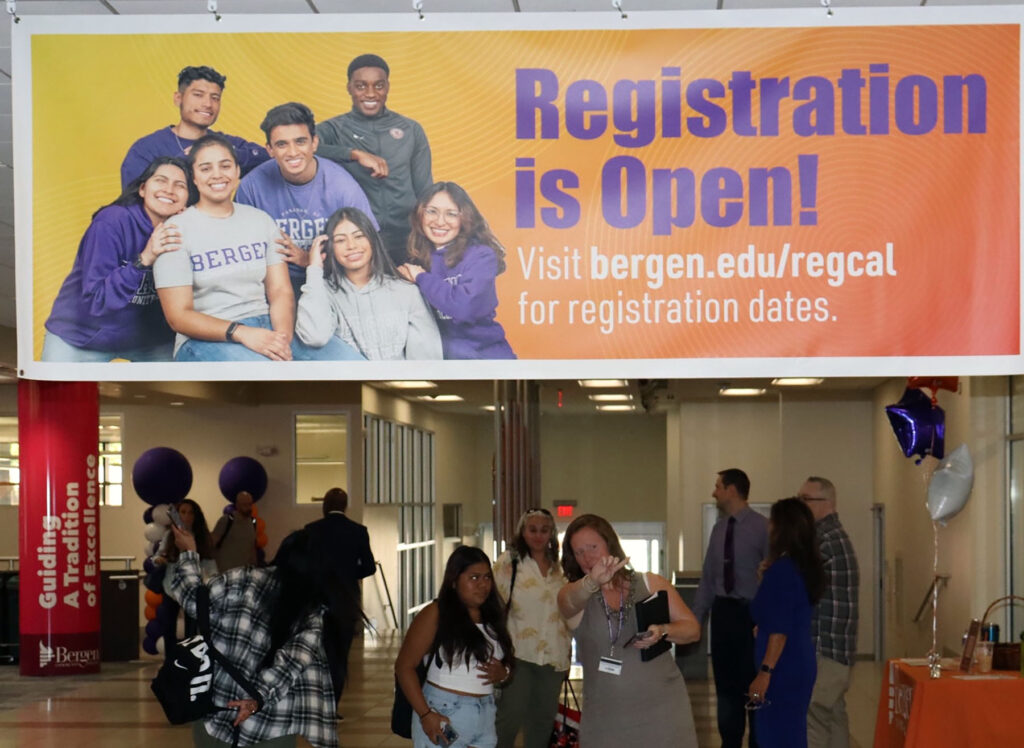 Bergen's first day of classes this September.
PARAMUS, N.J. – Bergen Community College will once again offer an accelerated winter semester in January 2024, allowing students to complete classes in just 14 days. The intensive offerings remain popular with students seeking to earn credits in the downtime between the fall and spring semesters – including visiting students currently enrolled at four-year colleges. Registration has opened for the January slate of classes and the four spring slates, which begin in January, February and March. Students can register at Bergen.edu or in-person at any of the College's three locations in Paramus (400 Paramus Road, Paramus), Hackensack (355 Main Street, Hackensack) and Lyndhurst (1280 Wall Street West, Lyndhurst).
Winter Schedule
Spring Schedule
Spring 1: January 17 – May 7
Spring 2: February 7 – May 7
Flex 1: January 17 – March 8
Flex 2: March 9 – May 7
Additionally, registration remains open for Bergen's continuing education offerings, which often provide a more immediate pipeline to the workforce; learn more at ce.bergen.edu.
Bergen offers more than 130 degree and certificate programs in areas such as aviation, criminal justice, dental hygiene, fashion design and hospitality. The Center for Online Learning offers fully accredited programs in business administration, criminal justice, information technology and professional studies psychology that mirror the curricula of the College's in-person offerings.
Students enrolling at Bergen should consider filing their Free Application for Federal Student Aid (FAFSA). Applying for financial aid helps students unlock enhanced tuition assistance programs that can make Bergen more affordable – and even tuition-free. Students become eligible for many of the programs, including the state's Community College Opportunity grant, which offers a tuition-free Bergen experience to eligible students by filing the FAFSA.
The College ranks No. 1 in New Jersey for associate degree graduates. Last year, First Lady Jill Biden, Ed.D., and U.S. Secretary of Education Miguel Cardona, Ed.D., visited the College's main campus to applaud the institution's development of model student support services such as a reimagined one-stop student service center, a nationally recognized tutoring center and wellness resources.
Based in Paramus, Bergen Community College (www.bergen.edu), a public two-year coeducational college, enrolls more than 13,000 students at locations in Paramus, the Philip Ciarco Jr. Learning Center in Hackensack and Bergen Community College at the Meadowlands in Lyndhurst. The College offers associate degree, certificate and continuing education programs in a variety of fields. More students graduate from Bergen than any other community college in the state.
# # #