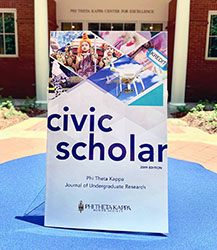 PARAMUS, N.J. – "Transforming Health Through Music Therapy," a project of Bergen Community College's Phi Theta Kappa (PTK) honor society chapter, Alpha Epsilon Phi, will appear in the second edition of Civic Scholar: Phi Theta Kappa Journal of Undergraduate Research, the first journal of its kind dedicated to community college student work. Only 16 research projects among 465 submissions earned a spot in the journal. Civic Scholar, made possible by support from the Jack Kent Cooke Foundation, demonstrates the innovation found in today's community colleges and features substantive research and community engagement by community college scholars.
Bergen's project, inspired by the PTK program's "honors in action" initiative, featured students conducting a double-blind study aimed at analyzing the cognitive effects of autonomous sensory meridian response (ASMR) media and classical music using electroencephalographic brainwave monitoring. Using the data collected, the students measured and compared the short-term effects of the two different sound therapies on anxiety reduction. Project mentors Coleen C. DiLauro, Ph.D., of Ramsey, and Angie Goldszmidt, of Cresskill, guided student authors Bryant Gomez, of Englewood, Elda Pere, of Garfield, Luis Sanchez, of Lodi, and Jenna Santacroce, of Saddle Brook, in the comprehensive study.
With the EEG data collected and the double-blind study design, the project may offer significant contributions to the ASMR field, which features only 10 published articles on the topic – nine of which include self-reported data, according to Goldszmidt.
"The article showcases the amazing research opportunities that are available through Phi Theta Kappa and at Bergen Community College," she said. "Our entire team is extremely proud of the students' work and are grateful for Phi Theta Kappa Honor Society and the Jack Kent Cooke Foundation for publishing it as part of the newest edition of the Civic Scholar Journal."
The students also presented their research at Bergen's STEM C2 Conference and won first place in the event's scholarly work competition. Additionally, the chapter earned an institution-record 23 honors at PTK's annual convention in Orlando, Florida including the international and regional "Most Distinguished Chapter" awards, thus making Bergen's chapter No. 1 in the world.
Founded in 1918, Phi Theta Kappa is the official honor society for two-year colleges that recognizes and awards high-achieving students at associate degree granting colleges. PTK's mission is to recognize academic achievement of college students and to provide opportunities for them to grow as scholars and leaders. The Society is made up of more than 3.5 million members and nearly 1,300 chapters in 11 nations. For more information, visit www.bergenptk.com/ or www.ptk.org.
Based in Paramus, Bergen Community College (www.bergen.edu), a public two-year coeducational college, enrolls more than 14,000 students at locations in Paramus, the Philip Ciarco Jr. Learning Center in Hackensack and Bergen Community College at the Meadowlands in Lyndhurst. The College offers associate degree, certificate and continuing education programs in a variety of fields. More students graduate from Bergen than any other community college in the state.
# # #