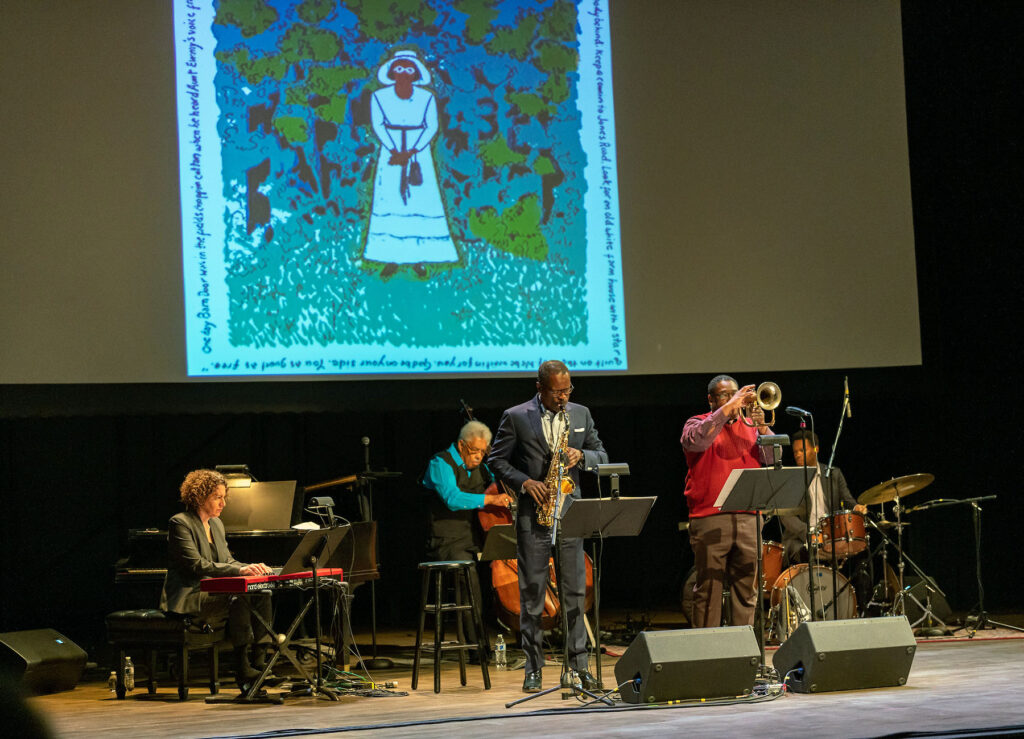 Faith Ringgold's art took center stage as part of a capstone concert in April.
PARAMUS, N.J. – Bergen Community College has earned the New Jersey Council for the Humanities Stanley N. Katz Prize for Excellence in Public Humanities for its series of projects revolving around the "Faith Ringgold: Coming to Jones Road" Gallery Bergen art exhibition. The series of artwork, inspired by the Ringgold family's 1992 move to Englewood that subjected them to racism and hostility as Black people, chronicles her own story of survival while celebrating her ancestors and their journeys along the Underground Railroad into Harlem. The exhibition opened in January at the College.
The celebration of the Englewood artist and activist included musical and stage performances, an oral history project and a children's reading room/makerspace where parents could accompany their children to hear stories from Ringgold's 17 books and create artwork inspired by what they have seen and heard.
Grammy-nominated composer Rufus Reid, who has recorded on more than 500 albums and received a John Simon Guggenheim Memorial Foundation Fellowship, created a new work with four movements for the "With Faith, Coming to Jones Road" culminating event in April. Professors Christine Eubank, Ph.D., and Leigh Jonaitis, Ph.D., led the development of the verbatim theatre performance that offered a window into the origin stories of ancestor journeys to Bergen County alongside Reid's suite.
"This project truly exemplified the humanities in a community-based context," New Jersey Council for the Humanities Executive Director Carin Berkowitz, Ph.D., said. "Bringing together partners from the Bergen faculty, local public libraries and governmental and nonprofit organizations, it used a combination of both creative and established public humanities practices to tell stories, preserve history, and encourage community dialogue,"
Born in 1930 in Harlem, Ringgold began painting in the 1960s. Later, she would create tankas (inspired by a Tibetan art form of paintings framed in fabric), of which her "Tar Beach" remains in the permanent collection of the Solomon R. Guggenheim Museum in New York City. As a writer, Ringgold received the Caldecott Medal and the Coretta Scott King award for the best-illustrated children's book of 1991 for "Tar Beach" as well. Professor Emeritus of Art at the University of California in San Diego, Ringgold has received 23 honorary doctorates.
The Katz prize represents the latest honor recognizing the Ringgold project, as it previously secured $22,500 in grants from the National Endowment for the Arts, the Puffin Foundation and the Bergen County Division of Cultural and Historic Affairs to develop the comprehensive celebration. Gallery Bergen Director Tim Blunk led the initiative and also collaborated with the National Coalition of 100 Black Women (Bergen/Passaic Chapter), the Englewood Public Library, the Teaneck Public Library, the Bergen County Office for Children and the Black Child Development Institute (BCDI) – Paramus Affiliate in support of the projects. The Puffin Foundation presented a smaller, contemporaneous show of printed works by Ringgold at the Puffin Cultural Forum in Teaneck.
"The community response was far beyond what we ever imagined," Blunk said. "Gallery Bergen has never had so many people from the community coming to visit the space. This was directly a result of having involved so many deeply rooted community organizations in the planning and articulation of the project. In the end, any form of history is storytelling, and we used the tools of research and theater to get closer to the story of African Americans migrating to Bergen County."
Bergen County Commissioner Mary Amoroso took a special interest in the project, writing a recommendation letter to Humanities Council officials to nominate the College's work.
"The artworks are spectacular: full of color and life and narrative," she said. "But the exhibit did not exist in a white-walled vacuum. One million people call Bergen County home. Thirty percent of us are foreign-born, and many of us grew up elsewhere. There is art in the telling of all our stories. There is art in celebrating our roots, our re-rooting in the new places we call home and our upward-tending branches. Everywhere – but certainly here in North Jersey – we can revel in the tangled mass of our roots and the riotous pointillist beauty of our flowering. That is how we draw meaning and replenish meaning and feel the artfulness and connectedness of who we are and how we got here through 'Faith Ringgold: Coming to Jones Road.'"
Named in honor of Stanley N. Katz, a longtime faculty member at Princeton University and former NJCH board chair, the College will receive a $5,000 award for earning first place. A panel of peer reviewers selected Bergen's submission from 20 nominated projects from throughout the state. To learn more about the annual Katz Prize, visit njhumanities.org/katz-prize.
Bergen officials expect to use the award's proceeds to sponsor a new oral history project and verbatim theater piece centered on the institution's "common read" book, "A Map is Only One Story: Twenty Writers on Immigration, Family and the Meaning of Home."
Based in Paramus, Bergen Community College (www.bergen.edu), a public two-year coeducational college, enrolls more than 13,000 students at locations in Paramus, the Philip Ciarco Jr. Learning Center in Hackensack and Bergen Community College at the Meadowlands in Lyndhurst. The College offers associate degree, certificate and continuing education programs in a variety of fields. More students graduate from Bergen than any other community college in the state.
# # #