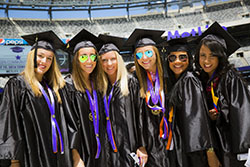 Members of the class of 2016 participated in Bergen's first commencement at MetLife Stadium.
Who: Bergen Community College
What: Commencement 2017
When: Thursday, May 18, 10 a.m.
Where: MetLife Stadium, 1 MetLife Stadium Drive, East Rutherford, New Jersey
Why: Approximately 2,000 graduates from Bergen, which has ranked No. 1 in New Jersey for associate degrees three years in a row, will become collegiate alumni this month. The College's 48th annual graduation ceremony will feature Bergen County Freeholder Germaine Ortiz as the keynote speaker. She represents the first freeholder in county history to deliver the address.
The Bergen class of 2017 includes:
*Valedictorian Marilyn Heiner, of Teaneck, a 71-year-old widow who will earn an A.A.S. in early childhood education. Heiner, whose husband Don passed away suddenly in 2010 after 37 years of marriage, shares a connection with the commencement venue, MetLife Stadium, and the New York Giants, who play their home games at the facility. The valedictorian, a 4.0 student, attended 180 straight home and away Giants games with her husband in the 1970s and 80s before breaking the streak when she gave birth to her daughter Jennifer. Heiner estimates she has watched the Giants in-person approximately 300 times – including the first (1976) and last (2009) games at Giants Stadium and the first game at MetLife Stadium (2010).
*Daniela Liberato, of Lyndhurst, and Nadia Vaso, of Fort Lee, who represent two of only 55 U.S. community college students selected for the Jack Kent Cooke Foundation Undergraduate Transfer Scholarship – the nation's top undergraduate transfer scholarship worth up to $40,000 per year. Liberato also became part of the 2017 Coca-Cola Community College Academic Team through Phi Theta Kappa, the honor society of two-year institutions, where she was selected from 1,800 applicants. Vaso, who earned a 4.0 GPA and starred at volleyball, became the first Bergen student to win the 2015-16 John Stauff Female Scholar Athlete of the Year award and the NJCAA Pinnacle Academic Achievement award.
*Nikita Sharma Gyawali, of Wood-Ridge, who earned numerous awards through Phi Theta Kappa – including the regional distinguished member and hall of honor awards – and became part of the 2017 Coca-Cola Community College Academic Team.
*Graduates who won national competitions – including the Rutgers Business School-Newark New Jersey County College Case Competition, which Bergen students won for the second consecutive year, and the outstanding position paper and outstanding delegation awards at the National Model United Nations conference.
Based in Paramus, Bergen Community College (www.bergen.edu), a public two-year coeducational college, enrolls 15,000 students at locations in Paramus, the Philip Ciarco Jr. Learning Center in Hackensack and Bergen Community College at the Meadowlands in Lyndhurst. The College offers associate degree, certificate and continuing education programs in a variety of fields. More students graduate from Bergen than any other community college in the state.
# # #