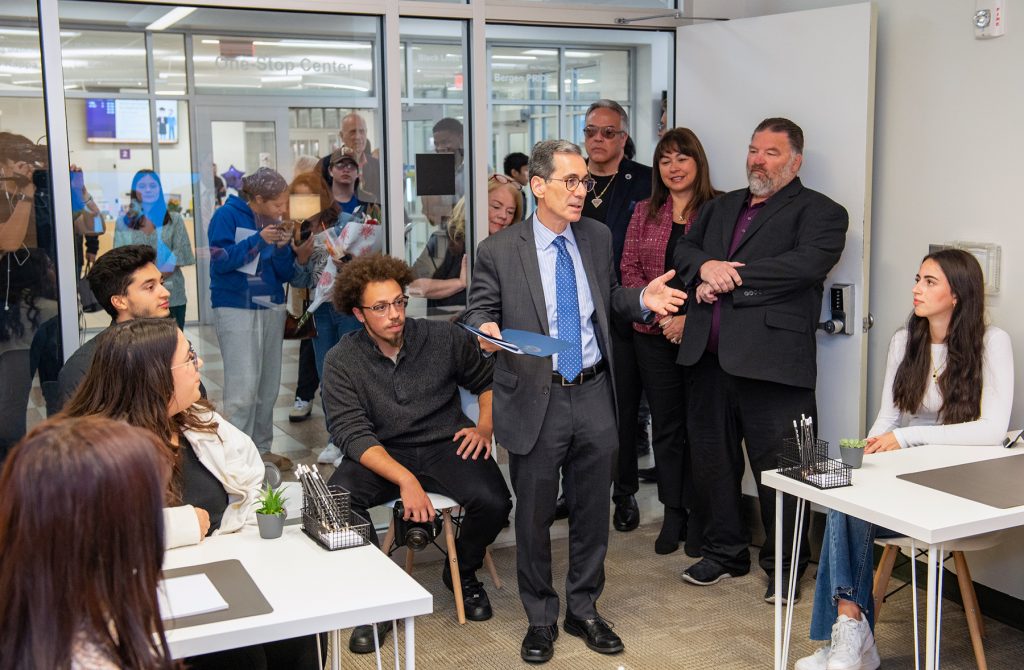 Bergen President Eric M. Friedman, Ph.D., speaks with student small business support specialists in their new office.
PARAMUS, N.J. – In just six months, Bergen Community College students have assisted nearly 500 local entrepreneurs in bouncing back post-COVID as "small business support specialists" through a collaboration with the Bergen County Business Resource Network. This nationally heralded program has received recognition from numerous media outlets, government officials and business organizations. In recognition of the program's growth, and to provide additional support for the students, Bergen County Executive James J. Tedesco III and Bergen County Commissioners Mary Amoroso, Germaine Ortiz and Thomas Sullivan joined Bergen President Eric M. Friedman, Ph.D., Oct. 20 as the College opened an office for the small business support specialists. The event coincided with Women's Entrepreneurship Week, which helped influence the day's activities as well. After the office doors officially opened, two local female restaurateurs who worked with the small business support specialist students presented refreshments showcasing their culinary talents, while Commissioner Amoroso led a panel discussion on women in entrepreneurship featuring local business owners.
Based in Paramus, Bergen Community College (www.bergen.edu), a public two-year coeducational college, enrolls more than 13,000 students at locations in Paramus, the Philip Ciarco Jr. Learning Center in Hackensack and Bergen Community College at the Meadowlands in Lyndhurst. The College offers associate degree, certificate and continuing education programs in a variety of fields. More students graduate from Bergen than any other community college in the state.
# # #