PARAMUS, N.J. – Enjoy a main course featuring a live, interactive cooking show with a side of comedy from the comfort of your home with "Dinner's Ready Live: Cooking & Comedy for the Isabella Altano Scholarship" Thursday, March 25, 2021 at 7 p.m. Presented by the Bergen Community College Foundation, participants will cook alongside comedians Dan Altano and Ryan Brown as they make spaghetti carbonara and a garden salad with a lemon-honey vinaigrette. To purchase a ticket ($30) for the event, where 100 percent of proceeds will support student scholarships, or make a direct donation to the scholarship fund, visit: https://www.eventbrite.com/e/dinners-ready-live-cooking-and-comedy-for-a-cause-tickets-143488224141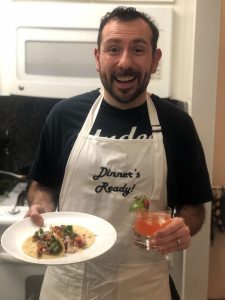 "Dinner's Ready Live" features a full slate of rising stars in comedy:
Caroline's on Broadway "2020 Breakout Artist" and host of "Dinner's Ready Live" Dan Altano (left);
Ryan Brown of the Escape from New York Tour;
Knife skills with professional chef Bruce Miller, Port Waterfront Bar & Grill;
Live music from singer and songwriter Kevin Madden of NBC; and
Comedy from Charlie Nadler of the Connecticut Comedy Festival; Eric Neumann of Netflix and Comedy Central; Sonya Vai of the New York Comedy Festival; and Marc Gerber of Avid Indoorsman Album.
Participants will also learn plating skills and have the opportunity to win prizes.
Tickets are limited. With each purchase, participants will receive a confirmation email and a follow-up with a Zoom link to the event the day of the show. All participants will receive an ingredient shopping list prior to the show for those who want to cook along with the hosts.
The Isabella Altano Scholarship fund provides tuition to students and aspiring artists at Bergen. Mrs. Isabella Altano, an alumnus, former teacher, artist, and home chef, passed away in 2018. Known for her talent and warm personality, Mrs. Altano believed the arts represented an essential part of life, spending her own time painting, photographing and restoring furniture among many interests. Her paintings and photography appeared in galleries across the United States as well as internationally in Austria and Italy. The Altano family – her husband Brian, a longtime Bergen professor, and three children, of Ridgewood – endowed the scholarship.
The Bergen Community College Foundation, a 501(c)(3) nonprofit organization, independent of Bergen Community College and governed by a community-based board of directors, works closely with the College president and trustees to set goals and objectives. As the College's primary fundraising institution, the foundation builds partnerships between Bergen and the community to help advance the priorities of the College's strategic plan to create transformative student learning experiences and to build on its greatest strengths and areas of greatest potential impact.
Based in Paramus, Bergen Community College (www.bergen.edu), a public two-year coeducational college, enrolls more than 13,000 students at locations in Paramus, the Philip Ciarco Jr. Learning Center in Hackensack and Bergen Community College at the Meadowlands in Lyndhurst. The College offers associate degree, certificate and continuing education programs in a variety of fields. More students graduate from Bergen than any other community college in the state.
# # #