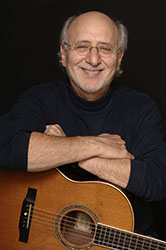 Peter Yarrow headlines this year's "Curtain Up" series.
PARAMUS, N.J. – Performers such as the Duprees, the Infernos and Peter Yarrow will combine with the BergenStages student theatre troupe to take the Anna Maria Ciccone Theatre stage at Bergen Community College this year.
The 300-seat venue, located at the College's main campus, 400 Paramus Road, in Paramus, kicks off the "Curtain Up!" 2019-20 season with the Duprees Saturday, Oct. 12 at 7:30 p.m. and the music of Bobby Darin Saturday, Oct. 26 at 7:30 p.m. Also in this year's lineup, Bergen Sinfonia will perform their annual holiday concert Saturday, Dec. 21 at 7:30 p.m., while Sherma Andrews will salute "legendary lady singers" Saturday, Jan. 11 at 7:30 p.m. Later, "America's No. 1 show band," the Infernos, will take the Bergen stage Saturday, Feb. 15 at 7:30 p.m. and folk icon Peter Yarrow, of "Peter, Paul and Mary," visits Saturday, May 16 at 7:30 p.m.
"Curtain Up" series ticket prices for the general public are $45, with discounts offered to senior citizens ($35), Bergen faculty/staff ($35) and students ($10). Group discounts are also available. Tickets can be purchased online at tickets.bergen.edu or by calling the box office at (201) 447-7428.
Meanwhile, BergenStages will open its 2019-20 season Friday, Oct. 25 with William Inge's "Picnic," a Pulitzer Prize winning play. William Shakespeare's comedy "Much Ado About Nothing" opens Friday, Dec. 6, while "Fahrenheit 451," begins its run Friday, Feb. 28. The season concludes with the musical comedy, "Once Upon a Mattress" Friday, April 3. BergenStages tickets are $15, with discounts offered to senior citizens ($10) and Bergen faculty/staff ($10) and students ($5). Visit tickets.bergen.edu for seats.
Finally, the second annual "Cinema Ciccone Film Series" will premiere later this year in the theatre, which features a state-of-the-art screen and sound equipment. Provocative, award winning documentaries will complement prescreening light refreshments and a post-screening talk with each film's director and producer. For more information, and a complete schedule, visit tickets.bergen.edu.
Based in Paramus, Bergen Community College (www.bergen.edu), a public two-year coeducational college, enrolls more than 14,000 students at locations in Paramus, the Philip Ciarco Jr. Learning Center in Hackensack and Bergen Community College at the Meadowlands in Lyndhurst. The College offers associate degree, certificate and continuing education programs in a variety of fields. More students graduate from Bergen than any other community college in the state.
# # #