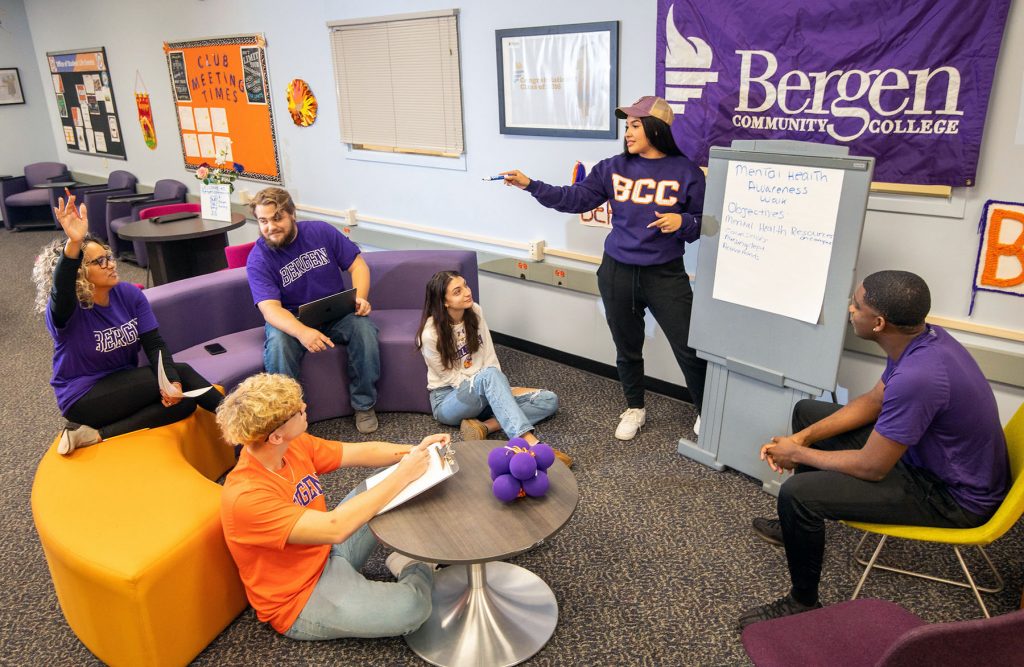 Students at Bergen's main campus in Paramus.
PARAMUS, N.J. – As post-pandemic enrollment at Bergen Community College continues to climb with more than 11,000 students taking classes this semester, online registration for summer and fall classes will open on Saturday, April 1. In-person registration will open at the College's three locations in Paramus (400 Paramus Road), Hackensack (355 Main Street) and Lyndhurst (1280 Wall Street West) on Tuesday, April 11.
Bergen's summer schedule – ideal for students home from four-year colleges and those seeking to accelerate their graduation – features multiple options and start dates. Sessions range from three- to-twelve weeks, with the first beginning on Monday, May 15. All schedules include many general education courses that transfer to colleges across the country. Students from other colleges seeking to enroll at Bergen for summer classes should visit bergen.edu/visiting.
Meanwhile, the College's fall semesters offer much of the same flexibility as summer with four different sessions and three different start dates. Students frequently begin their path toward a Bergen degree or certificate in the fall semester, taking advantage of the robust schedule of classes offered. All of the College's programs, including those in aviation, criminal justice, dental hygiene, fashion design and hospitality, will offer classes this fall.
Students interested in beginning classes this fall can also enroll in Bergen's Center for Online Learning, which provides enrollees the opportunity to earn a degree entirely online. All Bergen students have access to the College's nationally recognized tutoring, advising and support resources, regardless of their status as a summer, fall or online-only student.
Prospective students should consider filing a Free Application for Federal Student Aid (FAFSA). Applying for financial aid helps students unlock additional tuition assistance programs that can even make Bergen tuition-free. Students become eligible for many of the programs, including the state's Community College Opportunity Grant, which offers a tuition-free Bergen experience to students in households earning $65,000 or less and reduced rates for those earning $80,000 or less, by filing the FAFSA.
Bergen ranks No. 1 in the state of New Jersey for associate degree graduates. Alumni have transferred to the nation's best institutions – including each of those in the Ivy League, Stevens Institute of Technology and Rutgers University.
For more information, or to apply, visit Bergen.edu.
Summer Schedule:
Summer 1 (6 Weeks) – Monday, May 15
Summer U (12 Weeks) – Monday, May 15
Summer 2 (6 Weeks) – Thursday, June 29
Summer 3 (3 Weeks) – Thursday, August 10
Fall Schedule:
Fall 1 (15 Weeks) – Wednesday, September 6
Flex 1 (7 Weeks) – Wednesday, September 6
Fall 2 (12 Weeks) – Wednesday, September 27
Flex 2 (7 Weeks) – Friday, October 27
Based in Paramus, Bergen Community College (www.bergen.edu), a public two-year coeducational college, enrolls more than 13,000 students at locations in Paramus, the Philip Ciarco Jr. Learning Center in Hackensack and Bergen Community College at the Meadowlands in Lyndhurst. The College offers associate degree, certificate and continuing education programs in a variety of fields. More students graduate from Bergen than any other community college in the state.
# # #