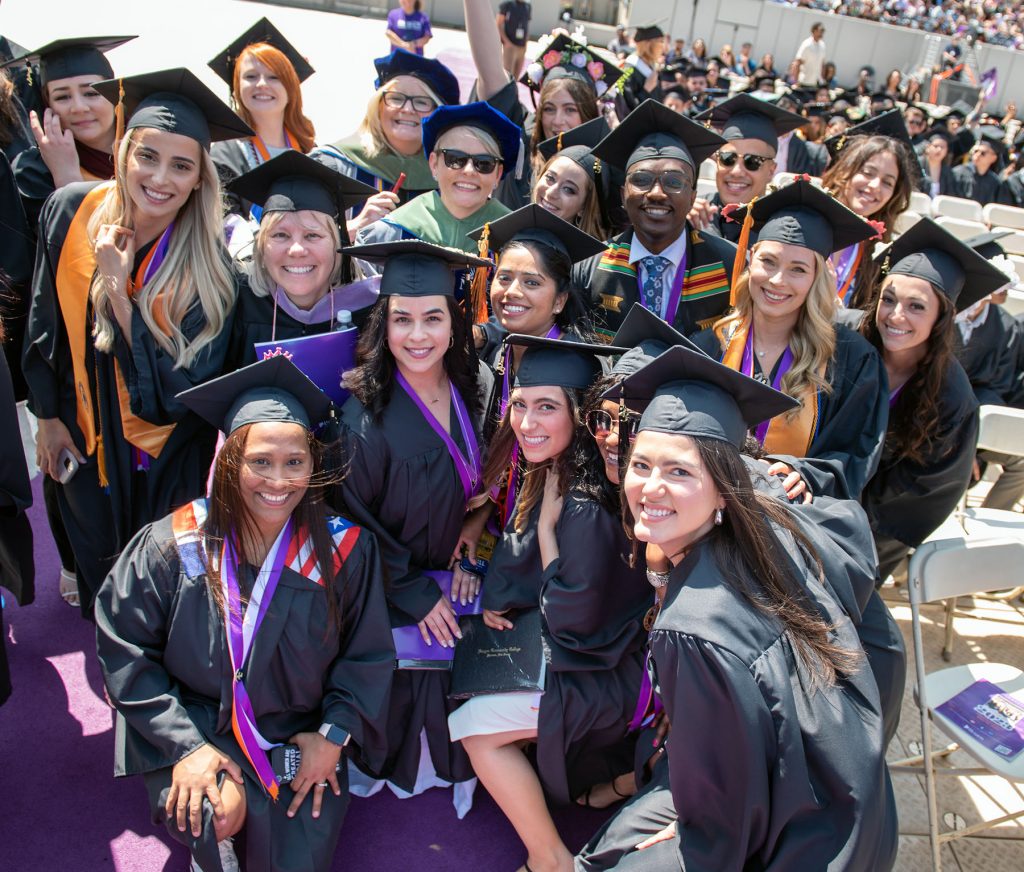 Members of the Bergen Community College class of 2023.
PARAMUS, N.J. – More than 7,000 graduates, families, friends, faculty, staff and special guests watched the Bergen Community College class of 2023 receive their diplomas at the institution's 54th annual commencement exercises on May 16 at MetLife Stadium in East Rutherford. The 1,000-plus graduates in attendance included students who completed their degrees in August and December 2022 and May 2023. Vice President of Academic Affairs Brock Fisher, Ph.D., served as emcee and congratulated the graduates throughout the ceremony.
"It's truly inspiring to not only see the sheer number of students graduating today, in spite of so many odds, but the incredible diversity of our students," he said. "Community colleges represent open access and inclusion – and it's truly apparent when looking at the class of 2023."
Valedictorian Mana Mehdizadeh, of Nutley, delivered remarks as valedictorian, the top student in the class of 2023. Among her many accolades, Mehdizadeh earned a 4.0 GPA while becoming a Coca-Cola Academic Team Gold Scholar and member of the New Jersey All-State Academic Team. As a general studies major aspiring to study government and politics at a four-year institution and attend law school, Mehdizadeh serves as vice president of service for Phi Theta Kappa, a tutor/academic coach at the Cerullo Learning Assistance Center and an intern for New Jersey State Representative Shama Haider (D-37). She also performs advocacy work on behalf of first-generation, low-income and underrepresented students, providing individualized mentorship, networking and employment opportunities.
"Despite our differences, what we all have in common is that we are college graduates and changed our lives for the better by attending Bergen Community College," she said. "It's important to remember that despite all of our experiences here being different, we still came together on this fateful day to celebrate our accomplishments as Bergen graduates."
In what has become an annual tradition, the Bergen Community College Foundation surprised graduates by awarding three $500 scholarships for those in attendance, with one sponsored by Bergen President Eric M. Friedman, Ph.D. Richard Boada Maldonado, Alexandra Sofia Romero and Mariajose Silva had their names randomly selected to receive the ultimate parting gift in recognition of their graduation.
The class of 2023 – 2,065 students in all – also included 16 members of the Turning Point Program for adults with intellectual disabilities, members of the Phi Theta Kappa honor society and even 139 local high school students who have earned associate degrees through Bergen's dual enrollment program. Graduate Shannon Medina, of New Milford, opened the ceremony by performing the national anthem, while Student Government Association President Amanda Kulesza, of River Edge, closed it by leading her peers in the traditional turning of tassels, signifying their status as college graduates.
Meanwhile, attendees heard Panasonic Corporation of North America Chairwoman and Chief Executive Officer Megan Myungwon Lee deliver the keynote address. She focused her remarks on maintaining intellectual curiosity, saying her own remained responsible from her ascension from a secretary to the c-suite.
"Curiosity helped me to take one step at a time when the future was not so positive or certain," she said. "As I stand here today, I see myself in you – 30 or so years ago – and I hope you see yourself in me many years from now.
Retiring professor Dallas Gray led the procession of invited guests as grand marshal, while Board of Trustees Chair Dorothy Blakeslee and President Friedman spoke at the ceremony as well.
Representing the special guests in attendance, Bergen County Executive James Tedesco III and Bergen County Commissioner Vice Chair Germaine Ortiz provided remarks on behalf of county government.
The College ranks No. 1 in New Jersey for associate degree graduates.
Based in Paramus, Bergen Community College (www.bergen.edu), a public two-year coeducational college, enrolls more than 13,000 students at locations in Paramus, the Philip Ciarco Jr. Learning Center in Hackensack and Bergen Community College at the Meadowlands in Lyndhurst. The College offers associate degree, certificate and continuing education programs in a variety of fields. More students graduate from Bergen than any other community college in the state.
# # #