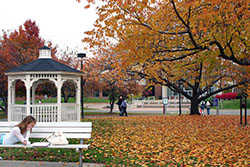 Registration for the fall semester has begun at Bergen Community College.
PARAMUS, N.J. – Through the NJ STARS program, Bergen County high school students graduating in the top 15 percent of their class can enroll at Bergen Community College tuition-free. Bergen will host a series of free information sessions on the program, which will include tours and refreshments in the Moses Family Meeting & Training Center (TEC-128) at the College's main campus, 400 Paramus Road:
*Wednesday, April 12, 5-7 p.m.
*Tuesday, April 18, 5-7 p.m.
*Wednesday, June 7, 5-7 p.m.
At the information sessions, prospective students and their families will learn more about Bergen, New Jersey's No. 1 ranked institution for associate degree graduates three years in a row. Recently, alumni have transferred to institutions such as Yale, the New Jersey Institute of Technology and the University of California, Berkeley. Alumni holding associate degrees from Bergen rank No. 11 in the country for mid-career salaries, according to PayScale. For more information on the NJ STARS information sessions, email ckrostek@bergen.edu.
Administrated by the state's Higher Education Student Assistance Authority, the NJ STARS program provides merit-based scholarships at New Jersey's 19 community colleges, including Bergen.
Based in Paramus, Bergen Community College (www.bergen.edu), a public two-year coeducational college, enrolls 15,000 students at locations in Paramus, the Philip Ciarco Jr. Learning Center in Hackensack and Bergen Community College at the Meadowlands in Lyndhurst. The College offers associate degree, certificate and continuing education programs in a variety of fields. More students graduate from Bergen than any other community college in the state.
# # #