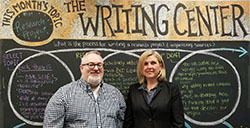 John Findura and Kelly Keane.
PARAMUS, N.J. – Selected from an institution-record 15 nominations, faculty member Kelly Keane and staff member John Findura have received the "Innovation of the Year Award" at Bergen Community College for their college transfer essay program that provided no-cost assistance to students navigating the written component to the transfer process into four-year institutions. Keane, of Ridgewood, an associate professor, serves as faculty liaison to the College's writing center, which Findura, of Towaco, supervises.
To date, the pair, along with a team of tutors, have held 12 workshops assisting more than 120 students. Students have received acceptance to colleges such as Columbia University, New York University and Rutgers University.
"We are supporting students who would not have otherwise received assistance," Keane said. "We're helping them build on their own successes."
Launched in November 2017, the program helps students fine-tune their writing and essays, but has also inspired them to turn their areas of interest into unique stories that capture the attention of admissions representatives.
"Students doubt that their story is unique to get into a four-year school," Findura said.
"We want to help them find those moments that set them apart," Keane added.
As part of the program, students attend three workshops that outline the transfer process. They receive multiple levels of support.
"John and I work with a team of tutors," Keane said. "This is a group effort and the group does important work."
The program has not only received the College's innovation award, but recognition from the New York Police Athletic League. In December 2018, Keane, Findura and three professional tutors visited a Bronx PAL site to hold a writing-intensive session for high school seniors preparing college essays. Keane and Findura will also present information on the transfer essay initiative at the Association for the Coaching and Tutoring Profession conference in Orlando, Florida in March.
Launched in 2013-14, Bergen's innovation program celebrates the commitment to creativity as one of its core values and provides an opportunity for all faculty, administrators and staff to showcase innovations they have designed and implemented that positively impact the education of students. The winning innovation receives $750 to further the program or initiative.
Based in Paramus, Bergen Community College (www.bergen.edu), a public two-year coeducational college, enrolls more than 14,000 students at locations in Paramus, the Philip Ciarco Jr. Learning Center in Hackensack and Bergen Community College at the Meadowlands in Lyndhurst. The College offers associate degree, certificate and continuing education programs in a variety of fields. More students graduate from Bergen than any other community college in the state.
# # #