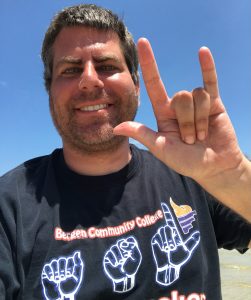 As a member of the deaf community, alumnus Anthony De Franco, A.A. '10, wants to build diversity and inclusion between both the deaf and hearing worlds by promoting awareness, acceptance, and love toward one another.
"I chose Bergen as my first step to college because it was closer to home," said De Franco. "I wasn't ready to go straight to a four year college, so I decided to give it a try."
After graduating from Bergen Community College in 2010 with an associate of arts degree in liberal arts, De Franco transferred to Gallaudet University in Washington, D.C. "I became more confident through college, especially at Bergen, which led me to transfer to Gallaudet University," said De Franco.
After three years at Gallaudet University, De Franco graduated in 2013 and returned to Bergen as an American Sign Language tutor at the Cerullo Learning Assistance Center from 2013 to 2021.  As a tutor, his goal was to prepare his students to succeed learning ASL as their foreign language by doing practice signing together to learn how to communicate in ASL or prepare for their exams or projects.
De Franco wants to promote awareness about ASL and the deaf culture to help bring about acceptance and inclusion in the communities throughout New Jersey. Currently, De Franco is working as a deaf mentor teaching both ASL and Deaf Culture to local families of deaf children from birth to age 5.
In 2014, De Franco earned the Newcomer Tutor Award from Bergen's Cerullo Learning Assistance Center. In 2020, De Franco earned A Change For Nick Young Adult Prevention Award by Aware ASAP in Ringwood/Wanaque for teaching kids in Ringwood to learn ASL.
"My successful experience at Bergen was to earn an A in my ASL classes, which led me to my profession as an ASL teacher and deaf mentor," said De Franco. "I am helping our deaf communities in New Jersey."
Based in Paramus, Bergen Community College (www.bergen.edu), a public two-year coeducational college, enrolls more than 13,000 students at locations in Paramus, the Philip Ciarco Jr. Learning Center in Hackensack and Bergen Community College at the Meadowlands in Lyndhurst. The College offers associate degree, certificate and continuing education programs in a variety of fields. More students graduate from Bergen than any other community college in the state.
# # #