Our state of the art facilities provide our students with access to tools used in the professional entertainment industry and include performance venues, music production facilities, and applied music facilities.
Performance Venues
The Ender Hall Laboratory Theatre is an intimate 100-seat black box theatre with all the versatility of an Off-Off Broadway theatre.
T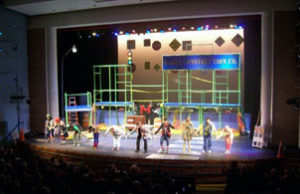 he Anna Maria Ciccone Theatre accommodates an audience of 300 and serves a wide range of performing arts. The Ciccone Theatre is equipped with a state-of-the-art computerized lighting and sound systems and contains all of the necessary support spaces, including dressing rooms, rehearsal space, administrative office space, and a fully equipped scene shop. Most importantly, both of the theatres serve as environments where students develop their skills in a full range of theatre crafts.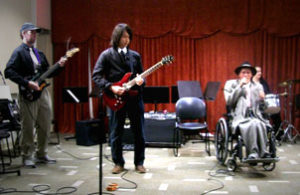 The West Hall Recital Hall accommodates an audience of 100 and serves as a music and lecture/performance hall. The hall, featuring a concert grand piano is also equipped with the latest in recording equipment and lighting systems
Music Production Facilities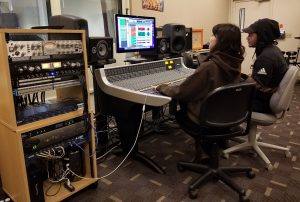 The West Hall Recording Studio is the primary live tracking facility incorporating all aspects of digital recording, mixing, editing and mastering. The studio utilizes the adjoining Recital Hall for "live" studio recording as well as the recording of concert events during the course of the year.
The Ron Mazurek Music Technology Lab is a state of the art facility for computer-based music production involving audio recording and editing, MIDI sequencing and sound synthesis. As a sister lab to the Animation Lab, the Music Technology Lab also features the most current software for video and 2-D and 3-D animation work. Click here for a detailed list of software and gear in the music production facilities.
Applied Music Facilities
The Piano Lab is the College Center of Piano Pedagogy. Beginning to advanced-level group piano courses is taught on 13 piano synthesizers. The lab also features a grand piano for master classes and pedagogical demonstration. The Piano Lab is also equipped with a number of computers loaded with software for music printing, theory, and ear-training.
The Applied Music Studios are fully equipped with pianos and acoustic sound proofing. The Applied Music Program offers traditional private music lessons for all instruments.