Adjunct Faculty Development
The AFDP is a chance to participate in workshops, strengthen your teaching skills, meet other BCC faculty, and earn recognition and compensation for your efforts. Through workshops, both on-campus and online, the program is an opportunity for you to engage with others around important and useful topics.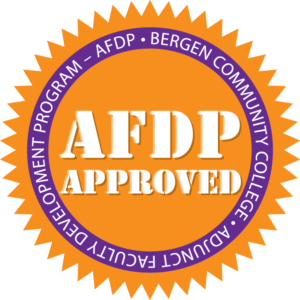 ---
AFDP Activities approved for Spring 2019
AFDP Online (To access go to my.bergen.edu)
Classroom Management
Critical Thinking
Grading and Feedback
Student Engagement
Universal Design
Culturally Responsive Teaching
CITL Workshops – To register go to bergen.edu/citlworkshops
Assessment Methods- New!
Bring Service Learning to Your Class
Build Skills – Go Crazy with Word & PowerPoint
Culturally Responsive Teaching – New!
Deliberative Dialogue for Active Participation
Designing Rubrics to Assess Student Learning
Digital Library Resources, We Have What You Want and Need – New!
Evaluation / Interpretation- New!
Find Free Online Educational Resources for All Your Instructional Needs – New!
Google Translate – – TechByte20 – New!
Google: It's More Than Email… Learn Google Voice
Grammarly On the Go – TechByte20
Innovative Approach to Critical Reading
iPad: Create Interactive Whiteboard Video Lessons
iPad: Engage Assess & Personalize Using Socrative
Manage Bergen's Webmail – TechByte20
Moodle: Assignment Activities
Moodle: Attendance Tool
Moodle: Audio Narrated PowerPoint Presentation Using VoiceThread
Moodle: Forum Discussions
Moodle: Getting Started – TechByte20
Moodle: Give a Voice to your e-Materials
Moodle: Gradebook
Moodle: Integrating Library Resources
Moodle: Journal Tool – New!
Moodle: Navigating the New SNAP Theme Layout – New!
Moodle: Respondus to Create Exams
Moodle: Turnitin Feedback Studio
Moodle: Using Chat – TechByte20
Moodle: VoiceThread Basics
Moodle: VoiceThread Basics for Language Arts
Moodle: VoiceThread Basics for Visual Arts
Moodle: Web Enhance Your Course
PowerPoint Animations
PowerPoint Basics
PowerPoint: 5 Tips for Effective Presentations – TechByte20
Prezi: Presentations Evolved
Project Based Learning
SOTL: Getting Started
Teach and Explore Using Google Earth – New!
Virtual Meeting: Adobe Connect
Virtual Meeting: Google Hangouts
Virtual Meeting: Zoom
Windows: Snipping Tool – TechByte20
New Adjunct Orientation
For faculty in their first semester at BCC, 1/12
Professional Development Day – 4/9
Tutoring Center
Writing in Disciplines – One-on-one hour consultation to adjunct faculty of any subject who are interested in using writing in their class but need support.
Appointments must be scheduled through the front desk at the Cerullo Learning Assistance Center in L-125, (201) 879-7489.
CITL Summer Institute – 5/13 and 5/14
Tri-State Best Practices Conference BCC at the Meadowlands – 3/2
Teaching Basic Musicianship Concepts (Music faculty only) – contact [email protected]
Gardner History Gateways New York Regional Launch Meeting – April 12
Moodle Day: Beyond Basics – May 15
---
AFDP Activities approved for Fall 2018
AFDP Online (To access go to my.bergen.edu)
Classroom Management
Critical Thinking
Grading and Feedback
Student Engagement
Universal Design
CITL Workshops – To register go to bergen.edu/citlworkshops
Build Skills – Go Crazy with Word & PowerPoint
Building Critical Thinking by Giving Choices
Deliberative Dialogue for Active Participation
Designing Rubrics to Assess Student Learning
EL: Assessing Service Learning Projects
EL: Bring Service Learning to Your Class
EL: Getting Started with Service Learning
EL: Project Based Learning
Google: It's More Than Email….Learn Google Voice
Grammerly On the Go – TechByte20
Innovative Approach to Critical Reading
iPad: Create Interactive Whiteboard Video Lessons
iPad: Engage Assess & Personalize Using Socrative
Manage Bergen's Webmail – TechByte20
Moodle Tips and Tricks
Moodle: Assignment Activities
Moodle: Attendance Tool
Moodle: Audio Narrated PowerPoint Presentation Using VoiceThread
Moodle: Can You Hear It Now
Moodle: Forum Discussions
Moodle: Getting Started – TechByte20
Moodle: Give a Voice to your e-Materials
Moodle: Gradebook
Moodle: Journal Tool
Moodle: Respondus to Create Exams
Moodle: Rubrics, Marking Guides & Checklists
Moodle: Using Chat – TechByte20
Moodle: VoiceThread Basics
Moodle: Web Enhance Your Course
Prezi: Presentations Evolved
Publishing Your Own E-Book
SOTL: Electronic Databases
SOTL: Getting Started
SOTL: Planning Projects
SOTL: Qualitative Research
SOTL: Writing for the BCC Journal of Scholarly Teaching
Transform Textual Lessons to Visual Stories
Virtual Meeting: Adobe Connect
Virtual Meeting: Google Hangouts
Virtual Meeting: Zoom
Windows: Snipping Tool – TechByte20
Word: Citation Formatting Tips & Tricks
Word: Images, Shapes, SmartArt
Center for Institutional Effectiveness
Assessment 101
Backward Design
Library
Navigating the Library Collection Using the New WMS
Navigating the Library's Electronic Collection II – Advanced Searching
OER Resources: How to Find and Evaluate Them
OSS
Create Accessible Microsoft Word & PowerPoint Documents
Universal Design for Inclusive Lectures & Presentations
iESL: Integrated Linguistic and Academic Skills for College Success – Faculty Seminars on Pedagogy and Practice in ESL
New Adjunct Orientation – For faculty in their first semester at Meadowlands Campus 8/25
INF-101/114 Workshop – 8/30 1 pm-4 pm
Tutoring Center
Writing in Disciplines – One-on-one hour consultation to adjunct faculty of any subject who are interested in using writing in their class but need support. Appointments must be scheduled through the front desk at the Cerullo Learning Assistance Center in L-125, (201) 879-7489
Wrap Sessions – Writing, Reading, & Pedagogy – 9/13, 9/20, 9/27, 10/4, 10/11, 10/18, 10/25, 11/1, 11/8, 11/15, 11/29, 12/6, 12/13
Learning Communities and Integrative Learning Discussion -Tuesday, 11/27, at 12:30 pm. A-228
---
AFDP Activities approved for Summer 2018
AFDP Online (To access go to my.bergen.edu)
Classroom Management
Critical Thinking
Grading and Feedback
Student Engagement
Universal Design
CITL Workshops – To register go to bergen.edu/citlworkshops
Fostering Self-regulated Learning Skills Through Online Course Design
Moodle: Assignment Activities
Moodle: Attendance Tool
Moodle: Forum Discussions
Moodle: Grade Book
Moodle: Respondus to Create Exams
Moodle: Tips and Tricks
Small Teaching: Core Principles for Building an Effective Learning Experience
Strategies to Promote Critical Thinking in an Online Course
Web Enhance Your Course
Online webinars
What's the Secret to Creating Classroom Discussions That Work? 8/3/18 2-3pm Sign Up
Brain-Based Teaching and Learning 8/9/18 2-3pm Sign Up
Integrating Current Events Into Any College Course 8/30/18 2-3pm Sign Up
World Languages (French) – Connect Orientation, 8/30