Brock L. Fisher, Ph.D.
Vice President of Academic Affairs
When defining faculty development, the Professional and Organizational Development Network in Higher Education usefully views faculty members in three major roles: teacher, scholar/professional, and person. The best faculty development programs provide for development for faculty in all three roles. My immediate predecessor sought to create a well-rounded faculty development program at BCC, which included developing a more inclusive program for our Adjunct faculty. The Adjunct Faculty Development Program (AFDP) is a positive step in that direction.
The AFDP is a chance to participate in workshops, strengthen your teaching skills, meet other Bergen Community College faculty, and earn recognition and compensation for your efforts. Through workshops, both on campus and online, the program is an opportunity for you to engage with others around important, valuable topics. Please join our professional community of educators as we continue to explore ways to address common pedagogical and professional concerns.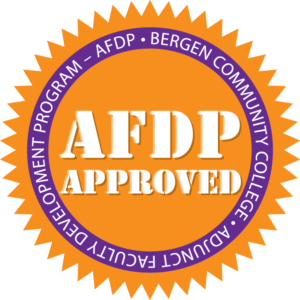 ---
Each Academic year, the AFDP permits you to accumulate hours of professional development, leading to a certificate and a stipend.  Participants who complete 10 hours of approved instruction will receive a stipend of $250.00.
Instructions for Submitting Proof of Attendance
When attending in-person workshops, sign in, as this is proof of your attendance.  Without proof of attendance, you will not receive credit.  After attending the number of required AFDP workshops, please print the form and take it to room C102 for the Dean of Adjunct Administrations' signature.
To print the form, follow the steps below:
Access my.bergen.edu
Click on Faculty Forms
Go to MyCITL Workshops
Click on Continuing Education
Click on Continuing Education Summary
Click Here for the Printable Version
Print the Form
AFDP List of Activities
Each semester, on-campus Bergen Community College events and activities are designated as approved for the program. Approval for AFDP is indicated in the CITL Workshops Calendar and in Faculty Development Committee emails announcing upcoming events. A list of activities for the AFDP will be made available each semester. Look for the seal confirming AFDP approval.  Additional opportunities will be added as more training events are offered.
To register, visit bergen.edu/citlworkshops
Amarjit Kaur, Ed.D., Managing Director, CITL
Deborah Manning, Ed.D., Dean Adjunct Administration
Carol Miele, Ed.D., Professor, ESL and World Languages
Joan Dalrymple, Associate Professor, Faculty Development Committee Co-Chair
Joanna Campbell, Professor, Faculty Development Committee Co-Chair