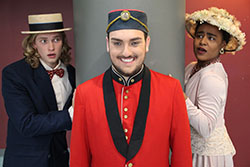 (From left) Austin Tobey, of Fair Lawn, as Romain Tournel, Kevin Bergen, of Glen Rock, as Victor Chandebise, and Keila Haskins, of Fort Lee, as Raymonde Chandebise.
PARAMUS, N.J. – The Bergenstages season continues with the funny and farcical "A Flea in Her Ear" – full of slamming doors, mistaken identities and sexual innuendo – Friday, Dec. 1 at Bergen Community College's Anna Maria Ciccone Theatre.
Set in France, David Ives' new version of Georges Feydeau's 20th century farce centers around a wife, Raymonde Chandebise, suspecting her husband, Victor Chandebise, of being unfaithful. With the help of a friend, Raymonde attempts to catch and confront Victor at the Frisky Puss Hotel – notorious for extramarital affairs – where chaos ensues. Adding to the marital mayhem, the hotel's drunken porter bears a striking resemblance to Victor.
The show will run from Friday, Dec. 1 to Saturday, Dec. 9 at 7:30 p.m.­­ On Saturday, Dec. 2 and Dec. 9, matinee performances take place at 2 p.m. All performances will be held at the College's main campus, 400 Paramus Road, Paramus.
Show ticket prices for the general public are $15, with discounts offered to senior citizens, Bergen faculty and students. Guests can purchase tickets by calling (201) 447-7428 or online at tickets.bergen.edu.
Based in Paramus, Bergen Community College (www.bergen.edu), a public two-year coeducational college celebrating its 50th anniversary in 2017-18, enrolls 15,000 students at locations in Paramus, the Philip Ciarco Jr. Learning Center in Hackensack and Bergen Community College at the Meadowlands in Lyndhurst. The College offers associate degree, certificate and continuing education programs in a variety of fields. More students graduate from Bergen than any other community college in the state.
# # #