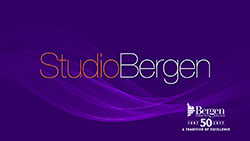 PARAMUS, N.J. – For the third consecutive year, Bergen Community College has earned recognition from the National Council on Marketing and Public Relations (NCMPR) for its communication efforts, winning awards for its official newsletter and video program.
"As the media landscape continues to evolve, Bergen Community College keeps the public informed by using innovative approaches to tell the story of our students, faculty and staff," President Michael D. Redmond, Ph.D., said. "The Medallion award-winning work produced by our staff helps the College stand out among institutions of higher education."
Announced in Philadelphia last month, Bergen received two NCMPR District 1 Medallion awards recognizing its video magazine program Studio Bergen (gold) and its newsletter, Inside Bergen (silver). The awards bring the institution's total to five in the last three years, including two first-place gold honors.
Now in its seventh season, Studio Bergen counts down the institution's top 10 stories each month, airing on Torch TV, channel 26 of the Verizon FIOS cable television system and via the College's official YouTube page. Studio Bergen is a joint production of the Office of Public Relations and the Office of Media Technologies.
Produced tri-annually by the College's Office of Public Relations, the Inside Bergen newsletter debuted in 2013. The publication details College news and includes recurring features such as a faculty profile, a campus calendar and a photo collage.
NCMPR, an affiliate of the American Association of Community Colleges with more than 650 member colleges, recognizes excellence in community, technical and junior college marketing and public relations activities in the northeastern U.S., Canada and the U.K. through the Medallion Awards each year.
Based in Paramus, Bergen Community College (www.bergen.edu), a public two-year coeducational college celebrating its 50th anniversary in 2017-18, enrolls 15,000 students at locations in Paramus, the Philip Ciarco Jr. Learning Center in Hackensack and Bergen Community College at the Meadowlands in Lyndhurst. The College offers associate degree, certificate and continuing education programs in a variety of fields. More students graduate from Bergen than any other community college in the state.
# # #