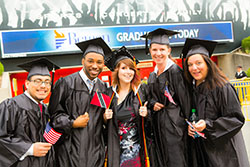 Bergen Community College alumni rank No. 1 in the state.
PARAMUS, N.J. – Fifty years of Bergen Community College graduates will come together in January for the annual alumni recognition dinner at the Terrace at Biagio's – located just a few steps from the College's main campus on Paramus Road.
Hosted by the College's Alumni Network, the dinner will take place Thursday, Jan. 11, 2018, at 6 p.m. and includes a cocktail hour with passed hors d'oeuvres and an open bar; wine, beer and soda throughout the evening; a buffet dinner; and recognition of honorees. Tickets, $67 each, commemorate the institution's 1967 hiring of its first president, Sidney Silverman, Ph.D., and the approval of the master plan that developed the College's main campus at 400 Paramus Road. To purchase tickets, visit tinyurl.com/bergenad50 or call the Bergen Community College Foundation at (201) 879-7432. Sponsorship opportunities are also available. Proceeds support the Bergen Community College Foundation and Alumni Network.
This year's honorees represent the College's rich history in two areas – its health professions programs and athletics. Bergen will recognize dental hygiene professor and class of 2002 graduate Goli Kocharian, of Saddle Brook, with the Distinguished Achievement Award and class of 2015 nursing graduate Jon Silva, of Dumont, with the Rising Star Award. Wrestling coach and NJCAA Wrestling Hall of Fame inductee Ed Kochakji, of Montvale, will receive the Living Legacy Award.
After its 1967 inception, Bergen's first 1,454 students arrived the following year in September 1968. Since then, the College has grown into the state's largest community college with approximately 15,000 students taking classes this semester. Ranked No. 1 in the state for associate degree graduates, alumni have transferred to every Ivy League institution and rank eleventh in the U.S. for mid-career salaries, according to Payscale.
A committee led by honorary co-chairs Bergen County Executive James Tedesco III, Bergen County Freeholder Chair Tracy Silna Zur and Professor Emeritus Virginia Laughlin have led the institution's efforts related to celebrating the anniversary. Among the initiatives, the College has launched the "$50 for 50" fundraising campaign, which will provide student scholarships and educational support. Donors have already contributed approximately $70,000 in less than two months. For more information on the celebration, or to donate to the $50 for 50 campaign, visit 50.bergen.edu.
Based in Paramus, Bergen Community College (www.bergen.edu), a public two-year coeducational college celebrating its 50th anniversary in 2017-18, enrolls 15,000 students at locations in Paramus, the Philip Ciarco Jr. Learning Center in Hackensack and Bergen Community College at the Meadowlands in Lyndhurst. The College offers associate degree, certificate and continuing education programs in a variety of fields. More students graduate from Bergen than any other community college in the state.
# # #