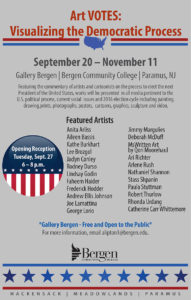 Gallery Bergen, West Hall W329A
Bergen Community College, Paramus, New Jersey
September 27 – November 4, 2016
Opening Reception Tuesday September 27th, 6-8pm
The current process to choose nominees to be our next United States President, as well as recent debates around immigration crises and race-based violence, provide rich sources of social commentary by artists and more directly satirical cartoonists alike. Works included are pertinent to the U.S. political process, current social issues, and current 2016 election cycle including painting, drawing, prints, photographs, posters, cartoons, graphics, sculpture and video.
Gallery Bergen Art Gallery committee faculty have selected 23 artists whose works showcase the role of creative vision in depicting governmental structures and the democratic process through procedures including; exaggeration, critique, satire, comedy and drama.
Bergen Community College is located only 22 miles NW of mid-town Manhattan.
The artists included are: Anita Arliss, Aileen Bassis, Kathe Burkhart, Lee Brozgol, Jaclyn Conley, Rodney Durso, Lindsay Godin, Faheem Haider, Frederick Hodder, Andrew Ellis Johnson, Joe Lamattina, George Lorio, Jimmy Margulies, Deborah McDuff, MsWritten Art by Qori Moorehaul, Ari Richter, Arlene Rush, Nathaniel Shannon, Stass Shpanin, Paula Stuttman, Robert Thurlow, Rhonda Urdang, Catherine Carr Whittemore