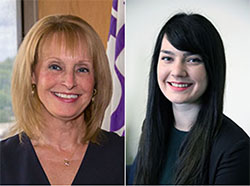 President B. Kaye Walter, Ph.D., and Amanda Karpinski.
PARAMUS, N.J. – Bergen Community College's nationally recognized Phi Theta Kappa honor society chapter ranked among the best in the world at the organization's national conference in Nashville, Tennessee April 6-8, securing 16 awards. In addition to earning regional and international distinguished chapter honors for the fourth year in a row, Bergen President B. Kaye Walter, Ph.D., received the 2017 Shirley B. Gordon Award of Distinction for her support of student success initiatives and student Amanda Karpinski was elected international president of Phi Theta Kappa, making her the first Bergen student to hold that office.
"Each year, the student members of Bergen's Phi Theta Kappa chapter build on the legacy left by their peers," President Walter said. "This has helped strengthen Bergen's chapter and established it as a global leader. I am not only humbled by the recognition I have received, but extremely proud that Amanda Karpinski represents the first Bergen student to hold Phi Theta Kappa's highest student officer position."
President Walter, who has led Bergen since 2012, has prioritized student success and completion initiatives during her tenure at the state's largest community college. This strategic focus has not only increased the College's graduation rate, but also helped Bergen students rank No. 1 in New Jersey for associate degree graduates three years in a row. The president has also championed student support and retention programs such as opening a food pantry on campus, becoming an Achieving the Dream institution and developing transfer partnerships with four-year colleges. Under President Walter's leadership, evaluators from the Middle States Commission on Higher Education commended Bergen's commitment to high institutional standards in lauding 48 areas of best practice and finding the College in compliance with all 14 of the accreditor's "characteristics of excellence."
Only 19 community college presidents earned this year's Shirley B. Gordon Award of Distinction – President Walter represented the lone honoree from New Jersey. Named for the late Dr. Shirley B. Gordon, Phi Theta Kappa's longest-serving board chair and president emeritus of Highline Community College in Des Moines, Washington, Gordon was named Phi Theta Kappa's Most Distinguished College President in 1984.
Karpinski, of Carlstadt, served as Bergen's Phi Theta Kappa chapter president this year. With her election as international president, she seeks to deploy many of the successful strategies for chapters across the globe that gained traction at Bergen. Among them, she plans to encourage greater communication between member students and institutions, thereby fostering a collaborative environment where knowledge becomes communal. Karpinski will also provide special attention to developing resources for chapters that lack significant institutional support. In addition to her election to international president, Karpinski also earned the regional and international Distinguished Officer award and regional Officer Hall of Honor recognition. Although the NJ STARS students remains eligible for graduation this May, she will take additional classes at Bergen during the 2017-18 academic year before transferring to pursue her bachelor's in English and law school.
Bergen's Phi Theta Kappa chapter also received the following awards:
*Regional:
Distinguished Member – Nikita Sharma
Member Hall of Honor – Nikita Sharma
Officer Hall of Honor – Nadia Vaso
Distinguished College Project Award
Distinguished Honors in Action Theme Award
Gold Chapter Award
Reach Award
Five Star Chapter Award
Distinguished Chapter Award
*International:
Distinguished College Project
Top 100 Chapters
Continued Excellence Regional Award
This year, more than 300 students earned entry into Bergen's Alpha Epsilon Phi chapter of Phi Theta Kappa. Students become eligible through high academic achievement and maintaining a commitment to service at the College and in the community.
Approximately 91 percent of Phi Theta Kappa members earn an associate degree or transfer to a four-year institution, compared to the national rate of 38 percent. More than 1,300 chapters exist throughout the world.
Based in Paramus, Bergen Community College (www.bergen.edu), a public two-year coeducational college, enrolls 15,000 students at locations in Paramus, the Philip Ciarco Jr. Learning Center in Hackensack and Bergen Community College at the Meadowlands in Lyndhurst. The College offers associate degree, certificate and continuing education programs in a variety of fields. More students graduate from Bergen than any other community college in the state.
# # #