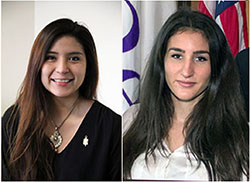 Daniela Liberato and Nadia Vaso.
PARAMUS, N.J. – A pair of Bergen Community College students have earned the nation's top undergraduate transfer scholarship and up to $40,000 per year to continue their education. Chosen from 3,000 applicants, Daniela Liberato and Nadia Vaso represent two of only 55 U.S. community college students selected for the Jack Kent Cooke Foundation Undergraduate Transfer Scholarship.
"The Jack Kent Cooke Foundation Undergraduate Transfer Scholarship stands as one of the most significant achievements a community college student can earn," Bergen President B. Kaye Walter, Ph.D., said. "For two students from the same institution to receive this scholarship reflects the strength of their individual candidacies and the College's commitment to providing resources that support student success."
Liberato, of Lyndhurst, will complete her studies at Bergen next month, graduating with a degree in general science and mathematics. For Liberato, the Cooke scholarship represents her second major award of the spring – she recently became part of the 2017 Coca-Cola Community College Academic Team through Phi Theta Kappa, the honor society of two-year institutions where she was selected from 1,800 applicants. At Bergen, Liberato has remained active in the STEM Student Union, the Student Government Association and the Latin American Student Association, while conducting a fundraising program for children in Peru, delivering food, toys and other items.
Vaso, of Fort Lee, has excelled in both academics and athletics at Bergen. In addition to maintaining a 4.0 GPA, she participated on a team of Bergen business students who won the inaugural New Jersey County College Case Competition sponsored by Rutgers Business School-Newark last year. As a standout on volleyball court, Vaso became the first Bergen student to win the 2015-16 John Stauff Female Scholar Athlete of the Year award and the NJCAA Pinnacle Academic Achievement award. She will graduate from Bergen in May.
Seven Bergen students in the last four years have received the Cooke scholarship.
The Cooke Foundation Undergraduate Transfer Scholarship represents the largest private scholarship in the nation for students transferring from two-year community colleges to four-year institutions that award bachelor's degrees. All Cooke scholars have financial need and strong records of academic achievement as shown by grades, leadership skills, awards, extraordinary service to others and perseverance in the face of adversity.
After earning a bachelor's degree, each Cooke scholar can receive up to $50,000 a year for graduate school.
Since 2000, the foundation has provided more than $152 million in scholarships to nearly 2,200 students from 8th grade through graduate school, along with comprehensive counseling and other support services. The foundation has also awarded over $90 million in grants to organizations that serve such students.
Based in Paramus, Bergen Community College (www.bergen.edu), a public two-year coeducational college, enrolls 15,000 students at locations in Paramus, the Philip Ciarco Jr. Learning Center in Hackensack and Bergen Community College at the Meadowlands in Lyndhurst. The College offers associate degree, certificate and continuing education programs in a variety of fields. More students graduate from Bergen than any other community college in the state.
# # #