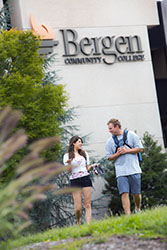 Bergen's main campus in Paramus.
PARAMUS, N.J. – Students from Bergen Community College and four-year schools throughout the country will once again have the opportunity to earn credits beginning this May as part of the institution's summer sessions. Registration for summer and fall classes, which begin Wednesday, Sept. 4, opens online at Bergen.edu Monday, April 1 and in-person Tuesday, April 8 at Bergen's three locations.
Summer classes at the main campus in Paramus, Bergen Community College at the Meadowlands in Lyndhurst and online include general education requirements such as English Composition, General Biology and Statistics ideal for transfer to many four-year colleges. Students can select from four different sessions of day and evening options, while the institution's in-county tuition rate of $146.50 per credit provides an affordable alternative to four-year schools.
Registration also opens April 1 for the fall semester. Bergen offers more than 130 degree and certificate programs in areas such as aviation, criminal justice, dental hygiene, fashion design and hospitality at three locations and online.
To register, visit bergen.edu or the College's locations in Paramus (400 Paramus Road), Lyndhurst (1280 Wall Street West) and Hackensack (355 Main Street). For more information, please call (201) 447-7200.
For students making their college decision, Bergen will sponsor an open house at its main campus (400 Paramus Road, Paramus) Thursday, April 25 from 3:30 to 7 p.m. The event will feature demonstrations, workshops, tours, exhibits and opportunities for potential students and their families to explore all that the College offers. To RSVP, visit bergen.edu/openhouse or email admissions@bergen.edu. Información disponible en español.
Bergen, New Jersey's largest community college with approximately 14,000 students taking classes this semester, ranks No. 1 in the state for associate degree graduates. Alumni have studied at every Ivy League institution and rank 11th in the U.S. for mid-career salaries, according to Payscale. Its resources include the Cerullo Learning Assistance Center – twice recognized as the top tutoring center in the U.S. – and satellite campuses in Lyndhurst and Hackensack.
Summer schedule:
*Summer 1 – May 20-June 27
*Summer U – May 20-Aug. 8
*Summer 2 – July 1-Aug. 8
*Summer 3 – Aug. 3-22
Fall schedule:
*Fall 1 – Sept. 4-Dec. 21
*Fall 2 – Sept. 25-Dec. 21
*Fall 3 – Oct. 25-Dec. 21
*Flex 1 – Sept. 4-Oct. 25
*Flex 2 – Oct. 26-Dec. 21
Based in Paramus, Bergen Community College (www.bergen.edu), a public two-year coeducational college, enrolls more than 14,000 students at locations in Paramus, the Philip Ciarco Jr. Learning Center in Hackensack and Bergen Community College at the Meadowlands in Lyndhurst. The College offers associate degree, certificate and continuing education programs in a variety of fields. More students graduate from Bergen than any other community college in the state.
# # #