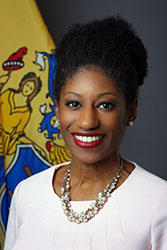 Zakiya Smith Ellis, Ed.D.
PARAMUS, N.J. – New Jersey Secretary of Higher Education Zakiya Smith Ellis, Ed.D., will deliver the keynote address at Bergen Community College's annual commencement. Smith Ellis represents the state's top higher education official and the first to headline Bergen's commencement since New Jersey Commission on Higher Education Executive Director James E. Sulton Jr., Ph.D., in 2000. Bergen's graduation ceremony will take place May 23 at 10 a.m. at MetLife Stadium in East Rutherford.
"During her tenure as Secretary of Higher Education, Zakiya Smith Ellis has championed progressive education policies and programs that open doors and create pathways to learning," Bergen President Michael D. Redmond, Ph.D., said. "Her passion reflects the state's renewed commitment to higher education – including through programs such as the Community College Opportunity Grant, of which Bergen served as a pilot institution. We are excited that the Bergen class of 2019 will have the opportunity to experience her enthusiasm first-hand."
As Secretary of Higher Education, Smith Ellis played a critical role in launching the Community College Opportunity Grant, a program that awarded Bergen and 12 other institutions $20 million to provide a tuition-free college education for eligible students. The "last dollar" initiative covers all remaining tuition and fees for income-eligible students taking six or more credits after any other federal or state grants are applied to their tuition bills.
Prior to her appointment as Secretary of Higher Education in Feb. 2018, Smith Ellis worked in the Obama White House as a senior adviser for education and in numerous roles regarding college affordability and government relations. She also taught in the K-12 education system.
Smith Ellis earned a B.S. from Vanderbilt University, an M.S. from the Harvard Graduate School of Education and an Ed.D. from the University of Pennsylvania.
In 2018, Bergen celebrated its 50th anniversary at commencement with special presentations, vignettes and remarks from Gov. Phil Murphy. John W. Davis, Ph.D., of the NAACP Legal Defense Fund, delivered the College's first commencement keynote in 1970.
Based in Paramus, Bergen Community College (www.bergen.edu), a public two-year coeducational college, enrolls more than 14,000 students at locations in Paramus, the Philip Ciarco Jr. Learning Center in Hackensack and Bergen Community College at the Meadowlands in Lyndhurst. The College offers associate degree, certificate and continuing education programs in a variety of fields. More students graduate from Bergen than any other community college in the state.
# # #