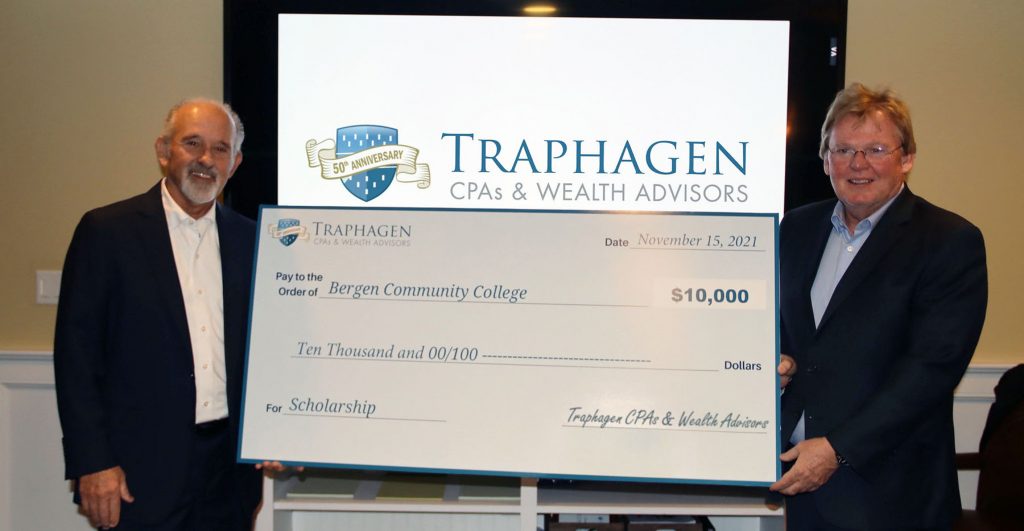 Bergen Community College Foundation Board Vice Chair Peter Traphagen and board member John Johnson.
PARAMUS, N.J. – In honor of the firm's first 50 years, Traphagen CPAs & Wealth Advisors, of Oradell, completed 50 acts of kindness to give back to the community they serve, saving the biggest for last – a $10,000 donation to the Bergen Community College Foundation. Bergen officials, including Board of Trustees Chair Dorothy Blakeslee, and members of the foundation accepted the donation at the firm's headquarters Nov. 15.
"An education is more than just a degree," founding partner of the firm and Foundation Board Vice Chair Peter Traphagen said at the event. "It's something you wake up with every day of your life. I'm honored to award this from the partners of Traphagen to Bergen Community College."
The firm's partners sponsored half of the donation, while Traphagen himself contributed the other half. Traphagen led the acts of kindness initiative and encouraged his fellow partners to select the Bergen foundation as the capstone recipient that would close the campaign. Traphagen has served on the foundation board for more than 20 years. He founded his company in 1970, which has now grown into a full-service accounting and wealth management firm with clients across the globe.
The foundation, a 501(c)(3) nonprofit organization led by a community-based board of directors, works closely with the College president and trustees to advance the priorities of the institution's strategic plan. The organization, currently led by Board Chair Daniel Foley, develops fundraising opportunities to support student scholarships and other College needs.
Based in Paramus, Bergen Community College (www.bergen.edu), a public two-year coeducational college, enrolls more than 13,000 students at locations in Paramus, the Philip Ciarco Jr. Learning Center in Hackensack and Bergen Community College at the Meadowlands in Lyndhurst. The College offers associate degree, certificate and continuing education programs in a variety of fields. More students graduate from Bergen than any other community college in the state.
# # #