PARAMUS, N.J. – As first-year Bergen Community College President Eric M. Friedman, Ph.D., continues to identify strategic opportunities to enhance the institution,  he has welcomed two new members to the executive cabinet of organizational leaders.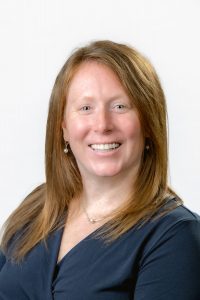 Joining the College as vice president of human resources and organizational development, Meredith Gatzke will direct efforts that support the 1,500 employees at the state's largest community college. Gatzke, of Jefferson, previously worked as the director of employee relations and organizational development for the Randolph Township School District. She holds an M.S. in human resources management from the College of Saint Elizabeth and a B.A. in history from Muhlenberg College.
"Meredith's experience in a top-tier public education system, working collaboratively with faculty, staff and governing bodies, has prepared her well for her new role at Bergen," President Friedman said. "Her knowledge and understanding of a collectively bargained workforce will help contribute to an environment of trust, professional development and goal achievement."
Meanwhile, Nathaniel "Nat" Saviet has joined the College as vice president of facilities. He will provide leadership for the institution's physical plant, aesthetic and built environment, which spans three locations – including the 167-acre main campus in Paramus and sites in Lyndhurst and Hackensack. Saviet, of West Orange, most recently served as a senior administrator at the Port Authority of New York and New Jersey in New York City. He holds an M.P.A. with a focus in conflict resolution/collaboration and environmental policy and a B.S. in biology with a focus in environmental science and public affairs from Syracuse University.
"Nat's experience in both facilities operations and environmental practice and policy will serve the College well as we place renewed emphasis on improvements in the aesthetic and built environment – priorities articulated in my 2021-22 presidential goals," President Friedman said. "He will play a key role as we strive to be a model campus in the future for environmentally sound and sustainable practices."
Led by the president, the nine-member executive cabinet features the College's senior leadership overseeing divisions such as academic affairs, student affairs and information technology.
Based in Paramus, Bergen Community College (www.bergen.edu), a public two-year coeducational college, enrolls more than 13,000 students at locations in Paramus, the Philip Ciarco Jr. Learning Center in Hackensack and Bergen Community College at the Meadowlands in Lyndhurst. The College offers associate degree, certificate and continuing education programs in a variety of fields. More students graduate from Bergen than any other community college in the state.
# # #