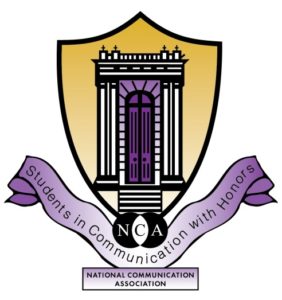 Bergen Community College's chapter has been designated as the Alpha Mu chapter of Sigma Chi Eta. Alpha means "strength and foundation in a society." Mu means "stability and protection."
The framed Sigma Chi Eta charter is proudly displayed in the Communication Department, Pitkin Education Center, A336.
Bergen Community College has joined over 45 community college chapters across the nation dedicated to recognizing the work of outstanding communication students.
As determined by the National Communication Association, the six goals of Sigma Chi Eta are:
Recognize, foster and reward outstanding scholastic achievement in communication studies
Stimulate interest in the field of communication
Promote and encourage professional development among communication majors
Provide an opportunity to discuss and exchange ideas in the field of communication
Establish and maintain closer relationships between faculty and students
Explore options for graduate education in communication studies
Students who meet the following criteria qualify for induction and are invited to join the communication honor society:
Complete 12 semester credit hours (18 quarter credit-hours) at their current institution or the equivalent number of hours at a transfer institution or the equivalent number of hours through life-long learning credit
Have a minimum cumulative GPA of 3.0 for all courses taken
Complete the equivalent of 3 courses or 9 semester credit hours (12 quarter credit-hours) in communication studies
Have a minimum GPA of 3.25 for all communication studies courses taken
Currently be enrolled as a student in good standing, as determined by the institution's policies
For more information, please contact the Communications Department or:
Chapter Advisor
Professor Thomas Jewell
(201) 447-5552
tjewell@bergen.edu