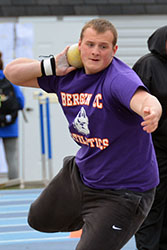 Garrett Pynn competing at a meet this spring.
PARAMUS, N.J. – The 2016 Summer Olympics may not begin for another few months, but Bergen Community College student-athlete Garrett Pynn has already brought home track-and-field gold.
Pynn, of Edgewater, won the discus event at the 2016 NJCAA division III national championship, launching a 41.1-meter-throw, and finished third in the shot put – all while nursing a lower-body injury. For his overall excellence, coaches recognized him with the "male field athlete of the year" award. He represents Bergen's first discus national champion.
"We are very proud of Garrett and his accomplishments both on the field and in the classroom," Managing Director of Athletics Jorge Hernandez said. "He is a true leader and he shows it every day with his hard work."
A former Leonia High School star who broke school records, Pynn will graduate from Bergen next year after completing his final criminal justice classes. Pynn holds a 3.6 GPA and plans to continue his athletic career at a four-year institution. He will pursue a career in law enforcement after completing his bachelor's degree.
Erika Czujko, of Garfield, coaches the Bergen Bulldogs track-and-field team.
Based in Paramus, Bergen Community College (www.bergen.edu), a public two-year coeducational college, enrolls 15,000 students at locations in Paramus, the Philip Ciarco Jr. Learning Center in Hackensack and Bergen Community College at the Meadowlands in Lyndhurst. The College offers associate degree, certificate and continuing education programs in a variety of fields. More students graduate from Bergen than any other community college in the state.
# # #